SOFTWARE :
RE Shoring Wall
DOWNLOADS :
UserDownloads:

361
RE Shoring Wall
Description
RE Shoring Wall is state-of-the-art software for designing shoring systems using current industry standards and methods. Shoring Design, Lagging Design, and Lateral Soil Pressure Analysis tools are combined into one powerful, user-friendly application.
Uses:
Design supported and cantilevered systems that are subject to lateral loads and develop their resistance through Passive Earth Pressure. Validate your design by performing a code compliance check against the selected construction code.
- Non-Gravity Retaining Wall Systems:
Discrete Element walls: Soldier Pile, Drilled Shafts, etc.
Continuous Element walls: Sheet Pile, Slurry, Tangent Pile, Secant Pile, Soil Cutter Mix, etc.
- Shaft Foundations
Billboards
Highway Signage
Flagpole Foundations
Gates
Shoring Design Key Features:
LRFD Oriented: Supports both LRFD and ASD design methods
Finite Element Method (FEM) Analysis of Wall Elements
Designs Supported and Unsupported Walls
Choice of Embedment Calculation Methods: Fixed Earth and Free Earth
Unlimited Number of Supports
Model Supports as External (Tieback or Deadman) or Internal (Strut or Raker)
Supports can be modeled as Rigid Supports or as Spring Supports
Each Support has its own properties to enable modeling different types of supports on the same wall
Optional Code Compliance Check includes multiple versions of AASHTO and AISC code standards
Database of AISC Wide Flange and many Sheet Pile shapes to choose from
Calculates the Axial Capacity of the Wall System
Allows for Applying Axial Loads
Dynamic Graphic displays key wall parameters, section properties, supports and pressure data entered
Results Summary
Graphs: Loading, Shear, Moment, and Deflection
Comprehensive Wall Report (shoring report)
Comprehensive Code Check Report
Lagging Design Key Features:
Based on National Design Specification for Wood Construction (NDS) Specifications
Built-in Database of Commonly Selected Woods
Stress Formulas are Tailored to Lagging Design
Adjustment Factors Not Relevant for Lagging Design Excluded
Results Summary
Comprehensive Lagging Report
Lateral Soil Pressure Analysis Key Features:
Choice of Pressure Coefficient Calculation Methods
User has Full Control of Variables
NAVFAC Delta Table Provided
Results Summary
Comprehensive Soil Pressure Report
* RE Shoring Wall download link provides commercial version of the software.
Similar Software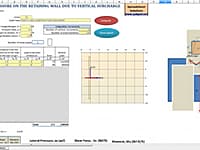 Lateral Pressure on the Retaining Wall Due to Vertical Surcharge
This spreadsheet computes lateral pressure against retaining wall due to vertical surcharge loads.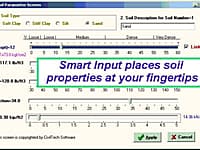 Shoring, EarthPres, Surcharge, and Heave
Shoring Suite is a software package that contains 4 Modules: Shoring, EarthPres, Surcharge, and Heave. These modules are sophisticated design and analysis tools developed by experienced engineers and professors.
DeepEX
Version:2021 · Deep Excavation LLC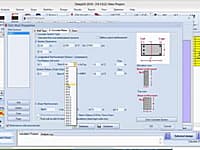 Design of Embedded Earth Retaining Walls
DeepXcav is a software program for the design of embedded earth retaining walls with limit-equilibrium and advanced non linear elastoplastic analysis methods. DeepXcav offers a one-stop complete geotechnical and structural solution for deep excavation.
LateralK
Version:4.0 · Novo Tech Software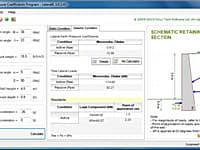 LateralK is a simple software for calculating lateral earth pressure coefficients and forces behind retaining walls in static and earthquake condition based on Rankine/ Coulumb formulas and also Mononobe/ Okabe methods.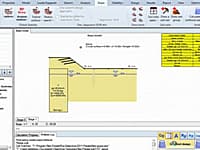 SnailPlus is a powerful soil nailing wall analysis and design software program. SnailPlus analyzes soil nailing walls according to FHWA design standards and methodologies.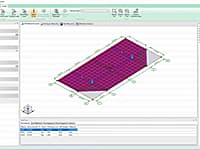 Wall, Slab or Plate Bending Analysis and Design
Solve plate bending problems for any geometry of flat plate, with various supports or holes.
Comments & Reviews
About RE Shoring Wall
No comments yet. Be the first to comment.
Submit a review using your Facebook ID