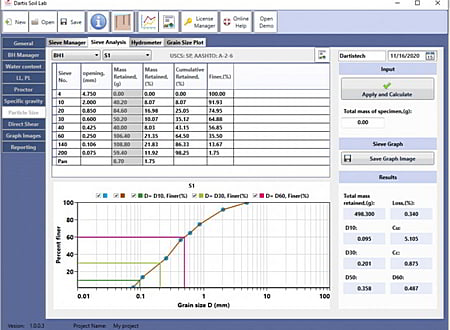 SOFTWARE :
Dartis Classification Suite
DOWNLOADS :
UserDownloads:

215
Dartis Classification Suite
Description
Dartis Classification Suite is designed for processing multiple common soil mechanics test; mainly for purpose of engineering soil classification and reporting.
Tests
Laboratory Determination of Water (Moisture) Contentof Soil and Rock by Mass - D-2216
Particle-size Analysis of Soils - D-422
Liquid Limit, Plastic Limit - D-4318
Classification of Soils and Soil-aggregate Mixtures for Highway Construction Purposes (AASHTO) - D-3282
Classification of Soils andSoil-aggregate Mixtures for Engineering Purposes (Unified Soil Classification System) - D-2487
* Dartis Classification Suite download link provides trial version of the software.
Similar Software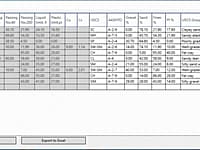 Soil USCS & AASHTO Classification
Dartis Classify is a soil USCS & AASHTO classification software. Easily classify soils by USCS and AASHTO methods and export results to Excel.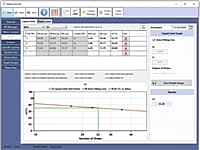 Water content, Index, Specific Gravity, Particle Size and USCS Classification of Soil
Dartis Lab is a geotechnical software for easily processing lab test data. Dartis Lab features Water content, Index, Specific gravity, Particle size and USCS classification of soil.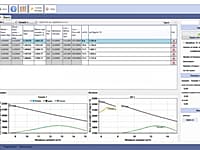 Dartis Proctor Suite is a soil mechanics lab testing software designed for processing multiple common soil mechanics tests and reporting.
Bearing Capacity of Shallow Foundations
Dartis bearing capacity calculates bearing capacity of shallow foundations considering shear failure.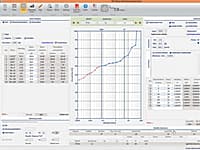 Sieve Analysis, Hydrometer and Atterberg Limits Tests
SO-Sieve having a user-friendly interface, includes sieve analysis, hydrometer and Atterberg limits tests.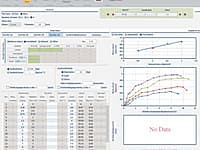 SO-Shear is aimed at the evaluation of direct shear tests. It has a user-friendly interface and lots of smart capabilities are implemented.
Comments & Reviews
About Dartis Classification Suite
No comments yet. Be the first to comment.
Submit a review about Dartis Classification Suite software with your social media profile