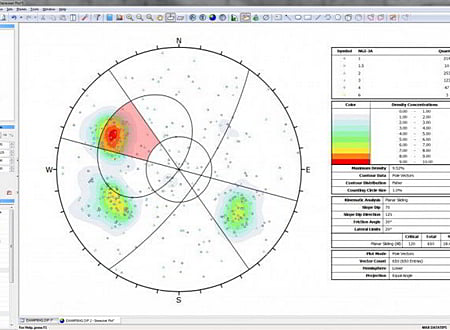 DOWNLOADS :
UserDownloads:

7388
Program Description
Dips is designed for the interactive analysis of orientation based geological data. The program is capable of many applications and is designed for the novice or occasional user, and for the accomplished user of stereographic projection who wishes to utilize more advanced tools in the analysis of geological data.
Dips allows the user to analyze and visualize structural data following the same techniques used in manual stereonets. In addition, it has many computational features, such as statistical contouring of orientation clustering, mean orientation and confidence calculation, cluster variability, and qualitative and quantitative feature attribute analysis.
Dips is designed for the analysis of features related to the engineering analysis of rock structures, however, the free format of the Dips data file permits the analysis of any orientation-based data.
* Dips download link provides trial version of the software.
Similar Software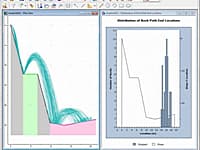 Statistical Analysis of Rockfalls
RocFall is a statistical analysis program designed to assist with assessment of slopes at risk for rockfalls.
HEC-SSP
Version:2.2 · Hydrologic Engineering Center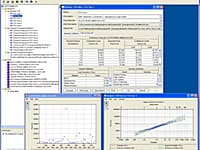 Statistical Analyses Of Hydrologic Data
Statistical Software Package (HEC-SSP) developed by the Hydrologic Engineering Center. This software allows you to perform statistical analyses of hydrologic data.
Dagra
Version:2.0.12 · Blue Leaf Software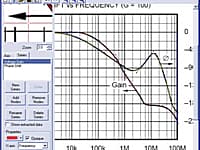 Converts printed data to numerical data
Software to digitize data from graphs for Engineering design calculations and analysis.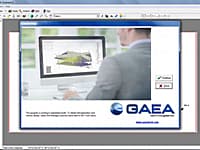 Geoscientific Analyses, Mapping, Data Display and Data Management
GaeaSynergy is an application suite for geoscientific analyses, mapping, data display and data management. The program can be used to evaluate contaminants, soil and rock properties, mineral deposits, and oil and gas deposits.
SuperLog
Version:4.2 · CivilTech Software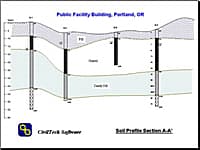 Boring Log and Test Pit Graphical Reports
SuperLog generates boring log and test pit graphical reports for field drilling and geotechnical investigations. It is a user-friendly, easy to learn, powerful, and flexible program, which will increase your productivity significantly.
Comments & Reviews
Submit a review about Dips software with your social media profile