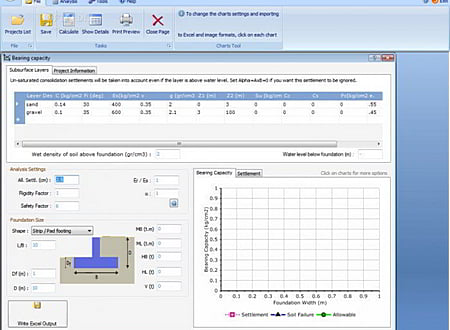 DOWNLOADS :
UserDownloads:

614
Peysanj is a series of geotechnical engineering modules such as bearing capacity and settlement, pressure-meter test, plate loading test, soil liquefaction analysis, etc bundled as single software. Each type of analysis is provided along with calculation details and detailed reports.
Allowable bearing capacity should satisfy both shear failure and settlement criteria. PEYSANJ uses Hansen method for analysis of soil shear failure by considering the effect of groundwater table in bearing capacity analysis. For settlement analysis, Steinbrenner and Goodier (Timoshenko) and rigid foundation formulas are used for immediate (elastic) settlement and one-dimensional Terzaghi consolidation formula is used for consolidation settlement.
Total settlement of the footing is then calculated by summing up the elastic and consolidation settlements. For each footing size, the minimum values of allowable stresses for shear failure and settlement criteria are compared and the introduced as the "Allowable Bearing Capacity" of the footing.
* Peysanj download link provides trial version of the software.
Similar Software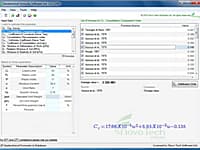 Geotechnical engineers can use this software for day-to-day analysis and calculations.
LateralK
Version:4.0 · Novo Tech Software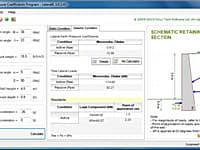 LateralK is a simple software for calculating lateral earth pressure coefficients and forces behind retaining walls in static and earthquake condition based on Rankine/ Coulumb formulas and also Mononobe/ Okabe methods.
VisLog
Version:4.0 · Novo Tech Software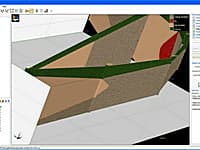 Using VisLog, the user will be able to enter borehole information including the stratigraphy, coordinates, ground water level, etc.
NovoLiq
Version:4.2 · Novo Tech Software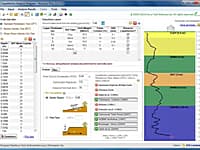 This robust software is designed for soil liquefaction analysis during earthquake and supports multi-layer as well as single layer stratigraphy.
NovoBPT
Version:2.0 · Novo Tech Software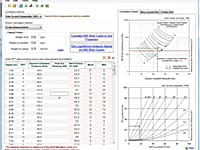 NovoBPT is designed for correcting raw BPT blow counts (Nb) and converting them to SPT blow counts (N60).
NovoCPT
Version:4.0 · Novo Tech Software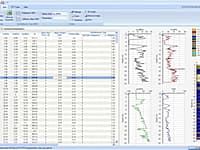 Cone Penetration Test Interpretation
NovoCPT is designed for processing CPT files and calculating soil parameters such as friction angle, relative density, unit weight, fines content, shear wave velocity, Gmax, clay sensitivity, OCR, undrained shear strength, soil behavior type (SBT).
Comments & Reviews
About Peysanj
No comments yet. Be the first to comment.
Submit a review using your Facebook ID