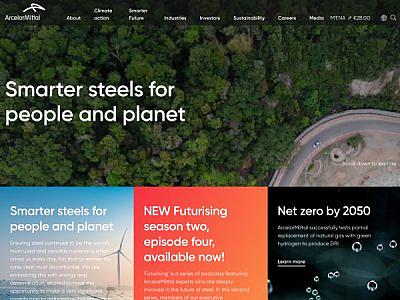 ArcelorMittal is the world's leading integrated steel and mining company. Guided by a philosophy to produce safe, sustainable steel, it is the leading supplier of quality steel products in all major markets including automotive, construction, household appliances and packaging.
CESDb currently lists 13 software developed by ArcelorMittal, including ACOBRI, ABC: ArcelorMittal Beams Calculator, Trusses+, ACP: ArcelorMittal Construction Phase, CoP2, ACoP: ArcelorMittal Connection Program.
You can also visit developers official website https://corporate.arcelormittal.com for software support, product updates, licenses and other information.
Software by ArcelorMittal
Calculation of Steel, Partially Encased, Composite, or Integrated Beams
ABC: ArcelorMittal Beams Calculator is a free pre-design tool for use in designing a variety of steel and composite structures such as portal frames, beam and column structures, trusses, and column-beam connections.
Predesign of Steel or Composite Cellular Beams with Circular Openings
Predesign of steel or composite cellular beams with circular openings in cold and fire conditions.
Price and Weight Estimations of Steel Framed Buildings
Software ACE provides quick prices and weight estimations of steel framed buildings based on I-profiles.
Composite Bridges Preliminary Design to Eurocodes
ACOBRI is a software developed by the CTICM for ArcelorMittal to optimize the preliminary design of structures with composite steel-concrete deck.
Connection Design According ENV 1993
CoP (Connection Program) is a software to design joints between open sections in steel building frames according to ENV 1993 (Eurocode 3).
Lateral Torsional Buckling of Beams
ArcelorMittal Construction Phase ACP for composite solutions to check the LTB behaviour of composite and/or partially encased beams during erection.
Life Cycle Assessment of Composite Structures of Buildings or Bridges
The purpose of AMECO software is to assess the life cycle of composite structures of buildings or bridges, evaluating the environmental footprint, in particular the associated energy consumption and greenhouse gas emissions.
Steel and Composite Castellated Beams with Sinusoidal Openings
Predesign of steel and composite castellated beams with sinusoidal openings in normal and fire situation.
Innovation in Earthquake Resistant Design
Verification of INERD constructive system in steel that can be applied to reinforce concrete frame structure.
Steel and Composite Joints Design in Accordance with Eurocode 3
COP is an innovative computer program for the design of joints in steel and composite structures.
ArcelorMittal Composite Slim-Floor Beams
CoSFB (Composite slim floor beams), a new development by ArcelorMittal, combines the advantages of composite design with traditional slim floor construction and is the perfect answer to the demands of long spans in modern architecture.
Fire Calculation for Industrial Halls
LUCA calculates displacements and additional horizontal forces that appear in industrial halls during fire enabling the engineers to consider their effect in the design in order to avoid collapse or risk of human life.
Pre-design of Large Span Trusses
Trusses+ is dedicated to the pre-design of Large Span Trusses in conformity with the European rules for steel structures.