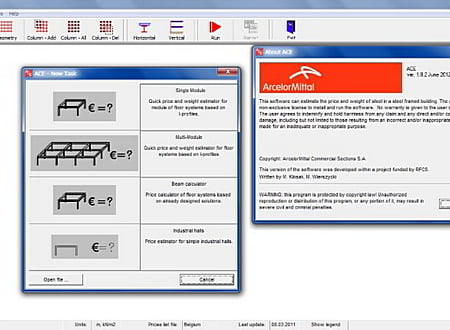 SOFTWARE :
ACE Advanced Cost Estimator
DOWNLOADS :
UserDownloads:

20
ACE Advanced Cost Estimator
Description
The software ACE provides a quick price and weight estimation for floor systems based on I-profiles as well as for simple industrial halls geometries. It also serves as a price calculator of already designed solutions. ACE is not a finite element calculation software and the results are based on the implemented databases. 
ACE provides 4 operating modes: 
Single Module - quick price and weight estimation for one module of a floor system based on I-profiles,
Multi-Module - quick price and weight estimation for the whole floor based on I-profiles,
Beam Calculator – price calculator of floor systems based on already designed solutions (import of beams and slabs),
Industrial halls - quick price and weight estimation for simple geometries of industrial halls with flat or pitched roof.
* ACE Advanced Cost Estimator download link provides freeware version of the software.
Similar Software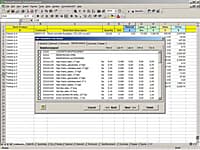 Build accurate insurance concrete construction estimates while saving time and money.
CoP2
Version:1.05 · ArcelorMittal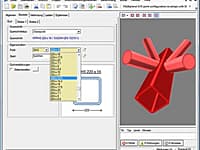 Steel and Composite Joints Design in Accordance with Eurocode 3
COP is an innovative computer program for the design of joints in steel and composite structures.
ArcelorMittal INERD
Version:1.0.0 · ArcelorMittal ·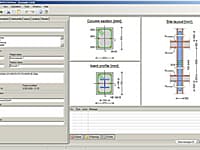 Innovation in Earthquake Resistant Design
Verification of INERD constructive system in steel that can be applied to reinforce concrete frame structure.
CoSFB
Version:1.6 · ArcelorMittal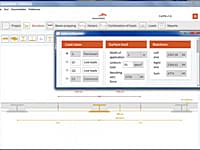 ArcelorMittal Composite Slim-Floor Beams
CoSFB (Composite slim floor beams), a new development by ArcelorMittal, combines the advantages of composite design with traditional slim floor construction and is the perfect answer to the demands of long spans in modern architecture.
eSTM8
Version:5 · misronet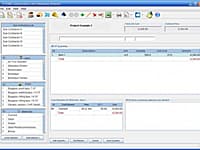 e-STM8 Construction estimating software can help you gain a competitive advantage by facilitating your preparation of detailed, profitable bids while managing job costs and subcontractor bids.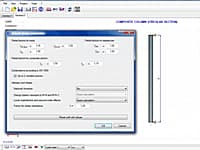 ArcelorMittal-CTICM Columns Calculator
The A3C software allows the designer to perform the detailed verification of a single steel member or a composite steel-concrete column according to the rules of the Eurocodes.
Comments & Reviews
About ACE Advanced Cost Estimator
No comments yet. Be the first to comment.
Submit a review using your Facebook ID