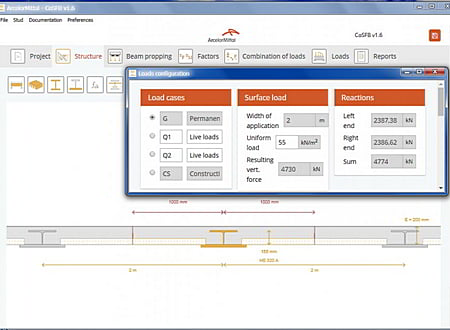 PLATFORM :
Windows / Mac / iOS / Android
DOWNLOADS :
UserDownloads:

648
Program Description
CoSFB (Composite slim floor beams), a new development by ArcelorMittal, combines the advantages of composite design with traditional slim floor construction and is the perfect answer to the demands of long spans in modern archi tecture. CoSFB is an economic solution for sustainable construction.
This software is intended to facilitate the design and the calculations of composite Slim Floor Beams according to the principles of Eurocodes (EN) [1 to 4] and fully complies with German Technical Approval "Zulassung-CoSFB-Betondubel z-26.4-59" for the case of shear connection made with concrete dowels. Thanks to its graphic and user-friendly interface, its use does not require a long training time. However, the user must have an appropriate knowledge in the fields of steel structures and of composite concrete-steel structures. The user should also check whether the project dealt with falls within the field of application of this software and, if needed, should complete the calculations carried out by the software with the verifications that might be required.
The field of application is limited to statically determinate beams on two simple supports. The software covers integrated beams fabricated from a hot-rolled profile (IFB-A. IFB-B, SFB).
* CoSFB download link provides freeware version of the software for Windows, MacOS, Android and IOS.
Similar Software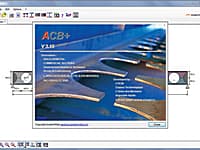 Predesign of Steel or Composite Cellular Beams with Circular Openings
Predesign of steel or composite cellular beams with circular openings in cold and fire conditions.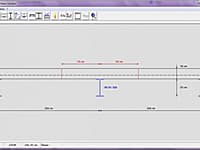 Calculation of Steel, Partially Encased, Composite, or Integrated Beams
ABC: ArcelorMittal Beams Calculator is a free pre-design tool for use in designing a variety of steel and composite structures such as portal frames, beam and column structures, trusses, and column-beam connections.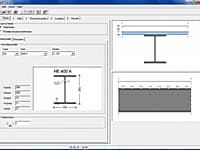 Lateral Torsional Buckling of Beams
ArcelorMittal Construction Phase ACP for composite solutions to check the LTB behaviour of composite and/or partially encased beams during erection.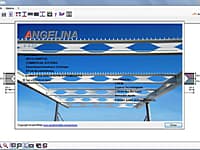 Steel and Composite Castellated Beams with Sinusoidal Openings
Predesign of steel and composite castellated beams with sinusoidal openings in normal and fire situation.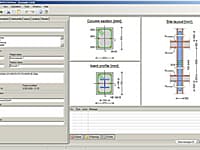 Innovation in Earthquake Resistant Design
Verification of INERD constructive system in steel that can be applied to reinforce concrete frame structure.
Comments & Reviews
Submit a review about CoSFB software with your social media profile