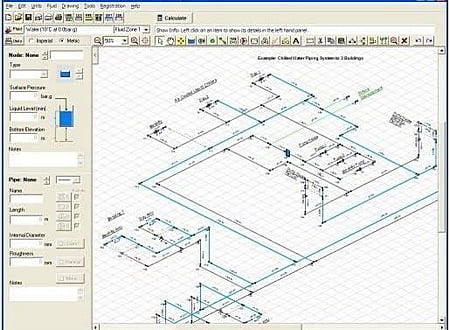 SOFTWARE :
Pipe Flow Expert
DOWNLOADS :
UserDownloads:

2664
Program Description
Pipe Flow Expert is designed to help todays engineers analyze and solve a wide range of problems where the flow and pressure loss throughout a pipe network must be determined. The Pipe Flow Expert program will allow you to draw a complex pipeline system and analyze the features of the system when flow is occuring. Pipe Flow Expert calculates the balanced steady-state flow and pressure conditions of the system. It will allow you to perform analysis of different pipe system designs under various operating conditions.
The reported results include:
Flow rates
Fluid velocities
Reynolds numbers
Friction factors
Pipe losses
Fitting losses
Component losses
Pump operating points
Pump head generated
NPSHa at pump inlet
Pipe pressure drop
Pressures at nodes
HGL values
* Pipe Flow Expert download link provides trial version of the software.
Similar Software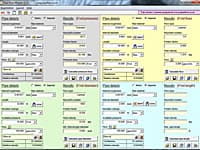 Flow & Pressure Calcs on Single Pipes
Pipe Flow Wizard is able to perform four different flow and pressure drop calculations on a single pipe depending on the known information.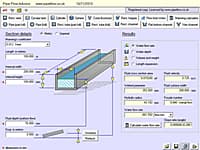 Open Channel Flow & Tank Empty Times
Flow Advisor can be used to estimate water flow rates from various open channels, closed channels and differently shaped supply tanks.
HCALC
Version:1.1 · Tahoe Design Software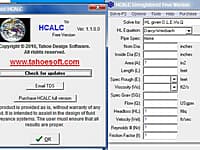 Pipe Flow Calculator and Unit Converter
HCALC solves for head loss, diameter, flow, pipe area, velocity, Reynolds number and friction factor using the Darcy-Weisbach, Hazen-Williams or Manning's equations.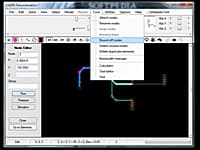 CADRE Flow is developed using the basic principles of finite element method as applied to the hydraulics flow field.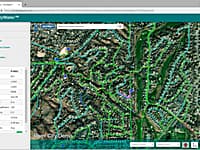 Visualize, Reference, Analyze Water Distribution Networks
Online web application for visualizing, referencing, and analyzing water distribution models.
Comments & Reviews
Submit a review about Pipe Flow Expert software with your social media profile