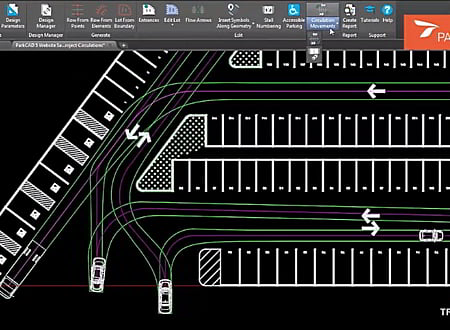 DOWNLOADS :
UserDownloads:

1355
Program Description
ParkCAD™ is an advanced CAD software that gives users the right tools to design parking layouts quicker and smarter than traditional CAD methods. With powerful layout, optimization and editing tools, users will increase productivity. Save time and money by reducing time-consuming redrawing of parking layout designs. Planning becomes easier with real-time stall counts and powerful reporting abilities for estimating cost.
Project managers, engineers and technicians involved in consulting with all levels of parking lot design experience can benefit from ParkCAD. Architects, planners, land developers, owners of parking facilities and more, will find ParkCAD invaluable.
Stay on budget, win bids, complete projects quickly and accurately. Make attractive and exciting presentations of ideas, and use powerful tools aimed at efficiency and ease of use.
Key Features
Set-Up:
Draw the  boundaries  of the  parking  areas with  CAD tools and place them on correct layers/levels  for use by ParkCAD. Colors and layers can be customized  in ParkCAD or use the default settings.
Easily  choose  between  default settings  or  set  your desired  dimension  and size of stalls,   islands,   aisles, and symbols.
The software  uses  guidelines  to  ensure  conformity to regulations in many different jurisdictions.
Designers  can  now  save, update,   and  load  multiple design iterations of a parking layout in a single drawing.
Parking Design:
Take  seconds,   not  hours,   to  lay  out  parking  rows and aisles using ParkCAD. Individual rows can also be made point-to-point or by using pre-drafted CAD ob- jects, such as lines, curves, polylines, or complex chains.
Create more complex parking layouts using parking lot boundaries that include  lines and curves for creating rows and aisles.
Place parking around other objects  such as buildings or roadways by defining the outer parking boundary and selecting one or more areas where parking is excluded.
Let  the  software   determine  which  row  layout  and rotation  produces  the  maximum  number  of parking spaces within a parking boundary.
Add accessible parking based on your region's guide- lines. Receive up-to-date reports  ensuring regulations are met.
Consider  traffic  flow to create  efficient   parking  lot movements with one-way or two-way traffic.
Parking Editing:
Use ParkCAD's powerful  editing  tools  to reduce  time spent editing parking layouts. Designers can resize lots to meet adjusted boundaries  while  keeping  previous edits. Row length can be adjusted by dragging end points and stall sizes and angles can be changed.
Designers  can  leave  room  for landscaped  areas  by removing  oversized  drive  aisles  and  by  minimizing the  area  of paved surfaces.  Users  can  also  update the lot's perimeter boundaries and reduce the parking site footprint.
Increase safety  and improve  aesthetics  by distribut- ing underused aisle space with centre walkways or landscaped areas between parking rows.
Create  custom  parking  stalls,   such  as valet  parking, police, taxi/bus  stands, shopping cart pick-up/drop-off, or use any customized symbol. Custom stalls are report- ed separately.
Parking islands can be classified as concrete, landscape, or painted.  ParkCAD can apply curbs  and hatches  to custom or standard islands.
Present  attractive presentations  using  realistic  paint line widths, arrows, symbols, curbs, and patterns from an extensive library of CAD blocks and hatches.
Reporting:
Calculate the percentage of accessible parking stalls by selecting groups of parking rows and lots.
All ParkCAD objects in the layout such as lengths, areas, and quantities, can be calculated and reported.
Estimate construction costs of the designed parking arrangement by assigning unit costs to the 2D entities.
Parking lot professionals can now visualize vehicle movement with  ParkCAD. See vehicles enter, circulate around aisles, access parking stalls, and exit the parking lot.
The ParkCAD demo is a fully functioning program. Please note that a few elements have been modified and some functionality has been limited. However, the demo should provide you with a good representation of what the software can do and how it can  be applied. The demo should not be used in actual design or project work.
* ParkCAD download link provides demo version of the software.
Similar Software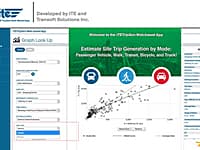 ITETripGen enables development of estimates of motor vehicle, pedestrian, transit user, bicyclist, and truck trips, generated by a land use based on its characteristics and setting.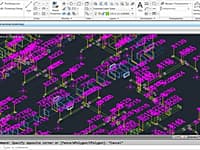 Point Placement and Construction Layout
Point Layout construction layout software helps contractors and subcontractors bring model accuracy to the field.
csJoint
Version:14 · ConSteel Solutions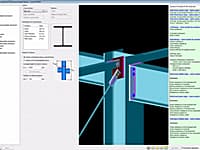 csJoint connection design software can be run as a stand-alone application and proved to be an efficient tool for structural connection design.
PileSuite
Version:1.0 · Innovative Geotechnics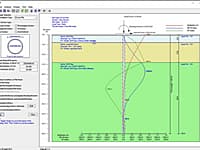 Deep Foundation Analysis and Design Solutions
PileSuite is a powerful suite of software products for deep foundation analysis and design for both onshore and offshore projects.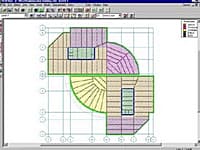 Automated Floor Layout and Optimization for Complete Building Systems
RISAFloor is a powerful application designed to help you create CAD drawings for structural engineers.
Comments & Reviews
Submit a review about ParkCAD software with your social media profile