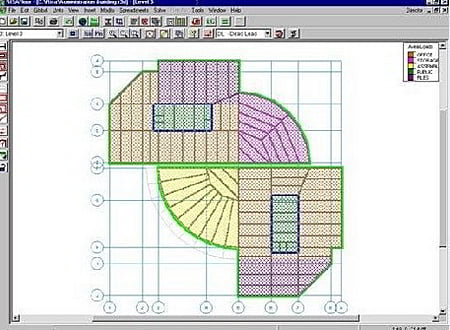 DOWNLOADS :
UserDownloads:

651
Program Description
RISAFloor designs floor systems and works hand in hand with RISA-3D and RISAFoundation to provide a more complete structural engineering software solution for building design. RISAFloor will manage loads, design beams and columns, create quality CAD drawings, and constantly serve RISA-3D the information that it needs for the design of lateral systems.
Working on one model, RISAFloor does all of the bookkeeping, letting you move seamlessly between RISAFloor and RISA-3D. RISA-3D integrates seamlessly with RISAFloor, allowing you great freedom in defining and analyzing both simple and complex systems. At any time you may move between RISAFloor and RISA-3D to make changes and see how they carry through the project.
RISAFloor has full graphical modeling capabilities that let you draw and edit your model on the screen. You may also use powerful spreadsheets that RISA is known for. Spreadsheets make non-graphical editing easy, and verification a snap. Graphic display of the model, along with applied loads and rendering, is always available. Presentation quality results are provided with interactive results review, quality rendered graphics and custom reports.
Design Codes
Steel Design Codes: AISC 360-10/05: ASD &LRFD, AISC 2nd & 3rd: LRFD, AISC 9th: ASD, CSA-S16-09/05/01, CSA-S16. 1-94, BS 5950-1: 2000, ENV 1993-1-1: 2005/1992, IS 800: 2007/1998, AS 4100-1998, NZS 3404: 1997 including local shape databases
Concrete Design Codes: ACI 318-11/08/05/02/99, CSA A23. 3-04/94, NTC-DF 2004, BS 8110-1: 1997, BS EN 1992-1-1: 2004/1992, IS 456: 2000,
AS 3600-2001, NZS 3101: 1995, SBC 304-2007
Masonry Design Codes: ACI 530-11/08/05/02/99: ASD & STRENGTH, UBC 1997: ASD & STRENGTH
Cold Formed Steel Design Codes: AISI 10/07/04/01/99: ASD & LRFD, CSA S136-07/04/01: LSD, CANACERO 07/04/01: ASD & LRFD
Wood Design Codes: AF&PA NDS-12/08/05/01/97: ASD wood design, Structural composite lumber, multi-ply, full sawn, Glulam
Wind loads are generated automatically (ASCE 7-10/05/02/98/95, NBC 10/05, NTC 2004 & IS 875: 1987) including partial wind cases
Seismic loads are generated automatically (ASCE 7-10/05/02, CBC 2001, IBC 2000, UBC 1997, NBC 10/05, NTC 2004 & IS 1893: 2002) including accidental torsion
* RISAFloor download link provides demo version of the software.
Similar Software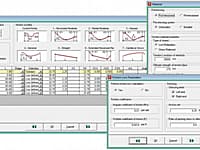 Complete Calculation of Losses in Prestressed Tendons
Easily layout tendons and calculate short and long term losses due to friction, elongation, creep, shrinkage and elastic shortening in accordance with ACI Committee 423.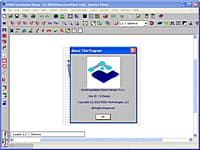 Solve and Optimize All Types of Foundation Systems
RISAFoundation gives you the ability to solve and optimize all types of foundation systems, including mat foundations, grade beams, pile caps, retaining walls, isolated spread footings and combined footings.
RISA-2D
Version:19.0 · RISA Technologies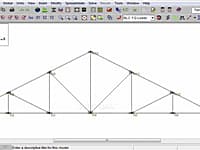 Two-Dimensional Analysis and Design
RISAConnection allows you to quickly build steel connections using a quick connection dialog box with pictures and descriptions.
RISA-3D
Version:19.0 · RISA Technologies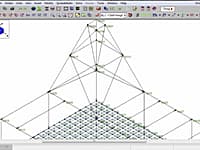 RISA-3D is an accurate tool for creating 3D models of buildings and other beam structures.
spSlab
Version:5.50 · StructurePoint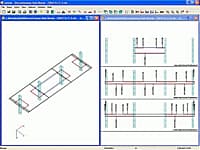 Analysis, Design and Investigation of Reinforced Concrete Floor Systems
spSlab (formerly pcaSlab/ADOSS) is highly efficient and widely used for analysis, design and investigation of reinforced concrete floor systems.
Comments & Reviews
Submit a review about RISAFloor software with your social media profile