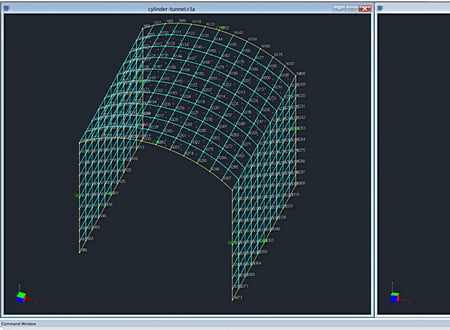 DOWNLOADS :
UserDownloads:

76
Program Description
QuadMaker is an interactive 64-bit Windows finite element mesh generator that produces 100% quadrilateral elements (shell4) on planar and curved surfaces in 3D space. The supported shapes include flat surface, cylindrical surface, spherical surface, surface of revolution (rev), and general patch surface. With these types of regions, arbitrarily complex geometrical shapes can be constructed.
Supported Shapes
Planar surface with holes, internal points, internal lines (trees)
Cylindrical surface
Spherical surface with 2, 3, or 4 edges
Surface of revolution
General patch surface
User Interface Features
Multiple documents may be opened at the same time; each document may have multiple views with different display settings.
Spreadsheets for input data and results.
Graphically drawing nodes, curves via mouse click or keyboard in command window.
Flexible editing features such as undo/redo, duplicate, array, mirror, move, scale, delete.
Automatic mesh generator to produce 100% quadrilateral shells.
Many different selection methods such as window/point select, select by IDs, select by properties, with options to freeze or thaw parts of a model. Ability to pan, zoom, and rotate in real time.
* QuadMaker download link provides trial version of the software.
Similar Software
Gmsh
Version:4.6.0 · Christophe Geuzaine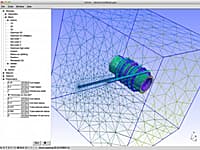 Three-Dimensional Finite Element Mesh Generator
Gmsh is a 3D finite element grid generator with a build-in CAD engine and post-processor. Its design goal is to provide a fast, light and user-friendly meshing tool with parametric input and advanced visualization capabilities.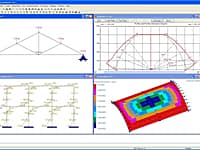 Structural Design & Finite Element Analysis
Real3D-Analysis is a powerful frame-finite element analysis and design program built from ground up, with latest technologies from the fields of finite element analysis, numerical computation and computer graphics, shell structures, dynamic analysis, concrete design, truss, frame, plate
sCheck
Version:1.2 · Computations & Graphics, Inc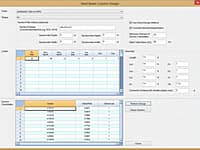 Design and Check Steel Beam/Column
sCheck is a Windows program for structural engineers to design and check steel beam/column compliance according to ANSI/AISC 360-10.
cColumns
Version:6.0 · Computations & Graphics, Inc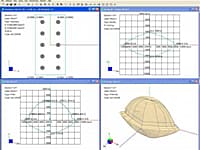 Axial-Flexural Analysis and Design of Concrete Columns, Beams and Shear Walls
cColumn formerly known as RcSections is a powerful 32-bit Windows program designed specifically for structural engineers to perform axial-flexural analysis and design of concrete columns as well as beams and shear walls according to ACI 318-11/08/05/02 and ACI 318-99.
FEMTA
Version:0.7.1 · Shacristo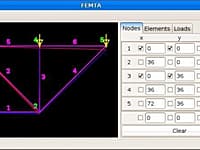 3D truss analyzer using finite element methods
Easy to use 3D truss analyzer using finite element methods. It has an easy graphical interface where you can define, loads, nodes and elements.
Comments & Reviews
Submit a review about QuadMaker software with your social media profile