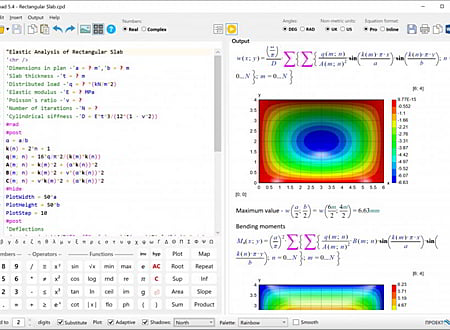 DOWNLOADS :
UserDownloads:

589
CalcPad is a professional software for mathematical and engineering calculations. It represents a flexible and modern programmable calculator.
The software is suitable for engineers and other professionals that have to perform a lot of repetitive calculations and include them into official documentation such as calculation notes. It can also help teachers to prepare examples, papers, manuals, books etc. The program can be useful also for students for solving problems and do homeworks, theses etc.
Online Library
Over 100 programs for geometrical properties, structural analysis and design to Eurocode. Find your program, enter input data, calculate and print.
Online Calculator
Advanced programmable engineering calculator. Real and complex numbers, custom variables and functions, graphing and numerical methods.
Desktop Version
Download CalcPad Pro and create your own programs. Just enter formulas and 'comments' and get a professional Html report. Free for 30 days!
* CalcPad download link provides trial version of the software.
Similar Software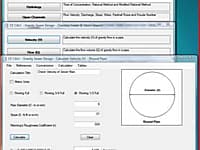 Performs civil engineering calculations for hydrology, open channels, culverts, gravity sewer, transmission lines and unit conversions.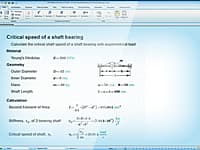 Solving & Analyzing Engineering Calculations
PTC Mathcad is the industry standard software for solving, analyzing, and sharing your most vital engineering calculations.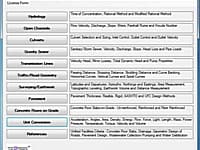 Civil Engineering Calculations
Performs civil engineering calculations for hydrology, open channels, culverts, gravity sewer, transmission lines, traffic/road geometry, surveying/earthwork, pavement, concrete floors and unit conversions.
Civil Engineering Calculations
This program was designed to provide Civil Engineers and Land Surveyors with a quick way to calculate or check points on portions of a roadway profile, area calculations, drainage/flow calculations, traffic counts, etc.
SVHEAVE
Version:3.22 · SoilVision Systems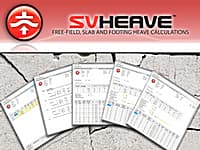 Free-Field, Slab and Footing Heave Calculations
SVHEAVE is a modeling tool that simplifies the calculation of soil heave for swelling clays.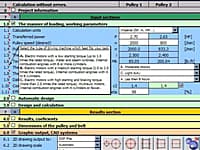 Mechanical, Industrial and Technical Calculations
MITCalc is the mechanical, industrial and technical calculations package. This professionally multi-language prepared package includes solutions for gearings, belt and chain drives, bearings, springs, beams, shafts, bolt joints and many others.
Comments & Reviews
About CalcPad
No comments yet. Be the first to comment.
Submit a review using your Facebook ID