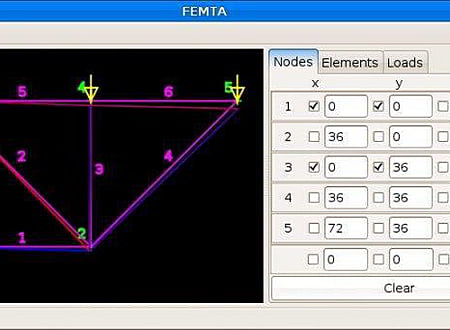 LICENSE :
GNU General Public License
DOWNLOADS :
UserDownloads:

695
Easy to use 3D truss analyzer using finite element methods. It has an easy graphical interface where you can define, loads, nodes and elements. Works on Windows NT / 2K / XP / 2003 / Vista
Features
Analyzes 3d truss structures
* FEMTA download link provides gnu general public license version of the software.
Similar Software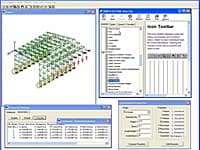 3D Finite Element truss and beam elements
GBW32 V5. 0 is a 3D Finite Element program that uses truss and beam elements to model a wide range of Mechanical and Civil structures.
Phase2
Version:9.0 · Rocscience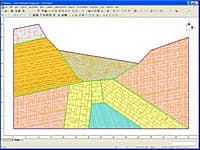 Finite Element Analysis for Excavations and Slopes
Phase2 is a powerful 2D elasto-plastic finite element stress analysis program for underground or surface excavations in rock or soil.
Gmsh
Version:2.8.5 · Christophe Geuzaine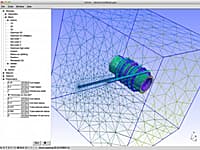 Three-Dimensional Finite Element Mesh Generator
Gmsh is a 3D finite element grid generator with a build-in CAD engine and post-processor. Its design goal is to provide a fast, light and user-friendly meshing tool with parametric input and advanced visualization capabilities.
Finite Element Analysis package for 2D and 3D constructions
Very powerful Finite Element Analysis package for 2D and 3D constructions (frames and trusses).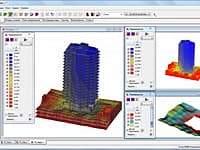 An Integrated System For Finite Element Structural Analysis
SCAD for Windows is a new-generation system developed by engineers for use of engineers and implemented by a team of experienced programmers.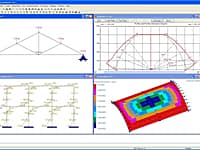 Structural Design & Finite Element Analysis
Real3D-Analysis is a powerful frame-finite element analysis and design program built from ground up, with latest technologies from the fields of finite element analysis, numerical computation and computer graphics, shell structures, dynamic analysis, concrete design, truss, frame, plate
Comments & Reviews
About FEMTA
No comments yet. Be the first to comment.
Submit a review using your Facebook ID