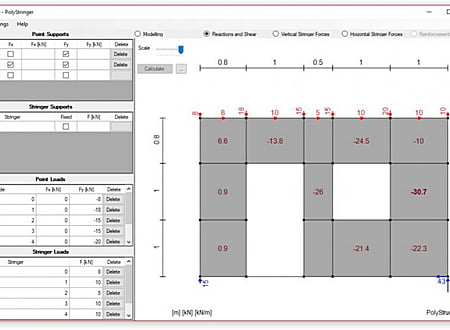 DOWNLOADS :
UserDownloads:

69
Stringer models are ideal for modeling reinforced concrete structures mainly exposed to in-plane forces such as diaphragms and shear walls in pre-cast concrete structures.
Reinforced concrete is a plastic material which behaves far from elastic as we know from other materials such as steel etc. Therefore, finite element models aren't ideal for design of reinforced concrete structures, and design by finite element models often lead to far more reinforcement than necessary.
Due to minor tensile cracks in the concrete the internal forces will automatically redistribute to where extra capacity is available and lead to increased capacity. The optimal plastic solution, which is the solution with the least required reinforcement is therefore an ideal solution for reinforced concrete. Furthermore, it has been shown that this solution is very true to the actual behavior of reinforced concrete and yields very accurate results with respect to SLS.
In the case of a diaphragm with a large cantilevered part, or significant holes. The diaphragm cannot be considered ridged. In this case PolyStringer can be used to determine the reactions in the supporting shear walls based on the distribution that is most gentle to the diaphragm. An example of this can be seen in the pictures to the right.
* PolyStringer download link provides trial version of the software.
Similar Software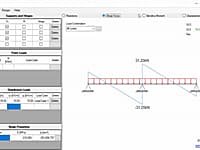 Determine sectional forces and design statically indeterminate beams using PolyBeam, a simple beam calculator.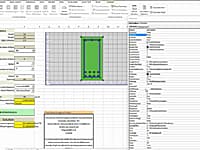 Elastic and Plastic Bending Analysis
Structures Office supports construction of arbitrary cross-sections, computes area, elastic, and plastic section properties.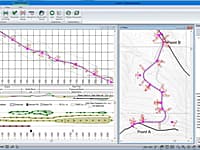 Earthwork Optimization for Corridor Projects
Standalone road and corridor optimization tool. Works with designs created in other design software.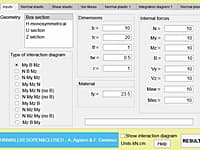 Elastic and Plastic Resistance of Open and Thin Walled Sections
Thinwallres Open&Closed application allows to determine the resistance capacity of open and closed thin-walled sections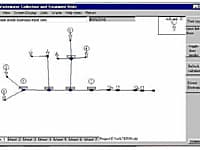 WATER9, the wastewater treatment model, is a Windows based computer program and consists of analytical expressions for estimating air emissions of individual waste constituents in wastewater collection, storage, treatment, and disposal facilities; a datab
Groundwater and Surface-water Flow Model
GSFLOW is a coupled Groundwater and Surface-water FLOW model based on the integration of the USGS Precipitation-Runoff Modeling System (PRMS-V) and the USGS Modular Groundwater Flow Model (MODFLOW-2005 and MODFLOW-NWT).
Comments & Reviews
About PolyStringer
No comments yet. Be the first to comment.
Submit a review about PolyStringer software with your social media profile