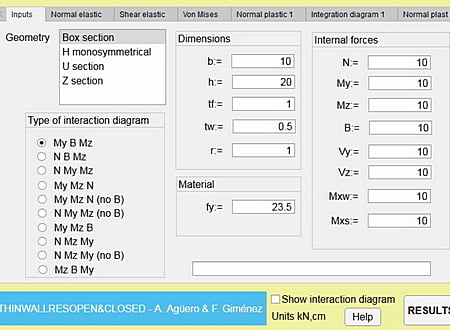 SOFTWARE :
Thinwallres Open&Closed
FILE SIZE :
Web Application
DOWNLOADS :
UserDownloads:

131
Program Description
Thinwallres Open&Closed application allows to determine the resistance capacity of open and closed thin-walled sections. Determine the elastic and plastic stress state under a combination of stresses and their resistance capacity and for a set of combinations in the form of an interaction diagram. The plastic use of the sections allows optimization by reducing the cost of the structures.
Background theory:
New interaction formula for the plastic resistance of I- and H-sections under combinations of bending moments My, Ed, Mz, Ed and bimoment B Ed. https://doi.org/10.1016/j.istruc.2020.11.059
https://www.researchgate.net/project/Interaction-plastic-axial-bending-moments-bimoment-yield-surface
Authors:
Antonio Agüero developed the program according to the theory.(anagra@mes.upv.es)
Fernando Gimenez developed the user friendly interface.
* Thinwallres Open&Closed download link provides freeware version of the software.
Similar Software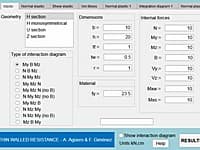 ThinWallRes allows to determine the resistance capacity of open thin-walled sections.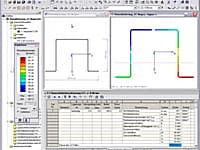 Properties and Stresses of Thin-Walled Cross-Sections
SHAPE‑THIN determines section properties of any thin-walled cross‑section and calculates the stresses. In addition, you can perform plastic design.
FramePlane2D
Version:2023 · Antonio Agüero ·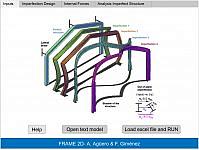 Resistant Capacity Of Compressed And Flexed Frames
FramePlane2D application allows determining the resistant capacity of compressed and flexed frames with a double tee section, susceptible to buckling in its plane.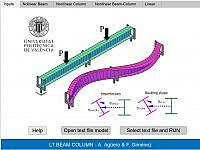 Critical Loads and Analysis of Imperfect Structures
The following application allows determining the resistance capacity of compressed and deflected pieces with a double tee section, susceptible to lateral buckling.
CUFSM
Version:5.04 · Thin-Walled Structure Group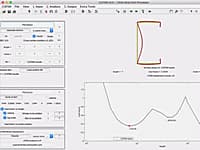 Cross-Section Elastic Buckling Analysis
CUFSM includes tools for generalized beam-column loading and analysis. CUFSM provides both the semi-analytical finite strip method for creation of the cross-section signature curve as well as the generalized finite strip method for other end boundary conditions.
Comments & Reviews
Submit a review about Thinwallres Open&Closed software with your social media profile