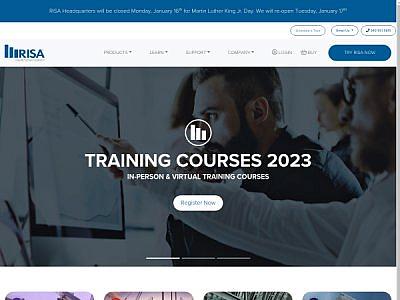 Superior structural engineering software for analysis and design by RISA Technologies, LLC.
CESDb currently lists 11 software developed by RISA Technologies, including RISABase, RISAConnection, RISA-2D, RISA-3D, RISAFoundation, ADAPT-Builder.
You can also visit developers official website http://risa.com for software support, product updates, licenses and other information.
Software by RISA Technologies
Prestressed Concrete Bridge Design
Practical analysis and design of a variety of prestressed concrete bridge structures complete with moving load generation, construction sequencing and international code support.
Fully Integrated Design for Concrete Buildings
Easily create complex geometry including single levels, ramps, and multi-story concrete structures using robust modeling tools as well as import from CAD and BIM software.
Complete Calculation of Losses in Prestressed Tendons
Easily layout tendons and calculate short and long term losses due to friction, elongation, creep, shrinkage and elastic shortening in accordance with ACI Committee 423.
Streamlined Design of Post-Tensioned Beams and Slabs
Straightforward investigation and optimization of reinforced concrete and post-tensioned beams and slabs in accordance to a variety of international design standards.
Two-Dimensional Analysis and Design
RISAConnection allows you to quickly build steel connections using a quick connection dialog box with pictures and descriptions.
RISA-3D is an accurate tool for creating 3D models of buildings and other beam structures.
Base Plate and Anchor Bolt Design
RISABase is a handy application that is designed to help structural engineers to analyze the behavior of complex base plate and anchor bolt models.
RISAConnection is a useful program designed to assist engineers in finishing steel structures by creating welds and connections between the elements.
Automated Floor Layout and Optimization for Complete Building Systems
RISAFloor is a powerful application designed to help you create CAD drawings for structural engineers.
Solve and Optimize All Types of Foundation Systems
RISAFoundation gives you the ability to solve and optimize all types of foundation systems, including mat foundations, grade beams, pile caps, retaining walls, isolated spread footings and combined footings.
Find the properties of complex built-up sections
RISASection allows the user to define any type of complex cross section either by combining standard shapes or by defining new shapes.