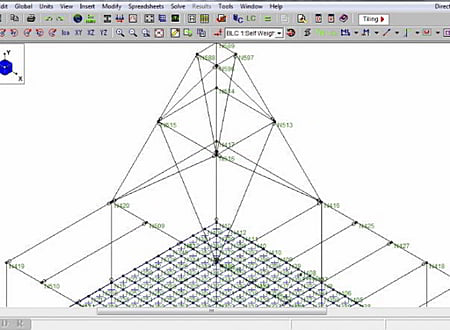 DOWNLOADS :
UserDownloads:

1400
Program Description
Fast, Accurate, Productive just a few ways engineers describe RISA-3D. Easily the most popular general 3D analysis/design software available, our intuitive interface and familiar spreadsheets help you solve your next problem in minutes, not hours.
Packed with the most current steel, concrete, cold-formed steel, masonry, aluminum and timber design codes, RISA-3D gives you the tools to tackle multi-material projects with confidence.
RISA-3D also integrates seamlessly with RISAFloor and RISAFoundation, including links to top detailing, drafting, and BIM packages for a complete building design solution.
Design Codes
Steel Design Codes: AISC 360-10/05: ASD & LRFD, AISC 2nd & 3rd: LRFD, AISC 9th: ASD, CSA-S16-09/05/01/CSA-S16. 1-94, BS 5950-1: 2000, ENV 1993-1-1: 2005/1992, IS 800: 2007/1998, AS 4100-1998, NZS 3404: 1997 including local shape databases
Seismic design per AISC 341-10/05, including 358 prequalified connections
Concrete Design Codes: ACI 318-11/08/05/02/99, CSA A23. 3-04/94, NTC-DF 2004, BS 8110-1: 1997, BS EN 1992-1-1: 2004, EN 1992-1-1:1992, IS 456: 2000, AS 3600-2001, NZS 3101: 1995, SBC 304-2007
Cold Formed Steel Design Codes: AISI NAS-10/07/04/01/99: ASD & LRFD, CSA S136-07/04/01: LSD, CANACERO 07/04/01: ASD & LRFD
Aluminum Design Codes: AA ADM1-10/05: ASD
Wood Design Codes: AF&PA NDS-12/08/05/01/97: ASD wood design, Structural composite lumber, multi-ply, full sawn, Glulam
Masonry Design Codes: ACI 530-11/08/05/02/99: ASD & STRENGTH, UBC 1997: ASD & STRENGTH
Wind loads are generated automatically (ASCE 7- 10/05/02/98/95, NBC 10/05, NTC 2004, & IS 875: 1987) including partial wind cases
Seismic loads are generated automatically (ASCE 7-10/05/02, CBC 2001, IBC 2000, UBC 1997, NBC 10/05, NTC 2004, & IS 1893: 2002) including accidental torsion
* RISA-3D download link provides demo version of the software.
Similar Software
RISA-2D
Version:19.0 · RISA Technologies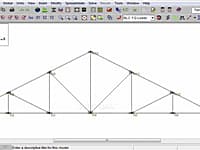 Two-Dimensional Analysis and Design
RISAConnection allows you to quickly build steel connections using a quick connection dialog box with pictures and descriptions.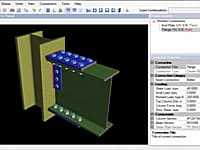 RISAConnection is a useful program designed to assist engineers in finishing steel structures by creating welds and connections between the elements.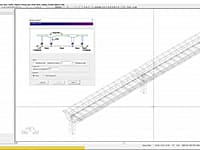 Prestressed Concrete Bridge Design
Practical analysis and design of a variety of prestressed concrete bridge structures complete with moving load generation, construction sequencing and international code support.
RISABase
Version:2.1 · RISA Technologies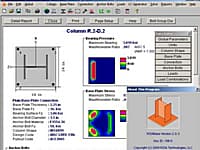 Base Plate and Anchor Bolt Design
RISABase is a handy application that is designed to help structural engineers to analyze the behavior of complex base plate and anchor bolt models.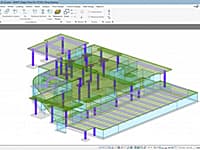 Fully Integrated Design for Concrete Buildings
Easily create complex geometry including single levels, ramps, and multi-story concrete structures using robust modeling tools as well as import from CAD and BIM software.
Comments & Reviews
Submit a review about RISA-3D software with your social media profile