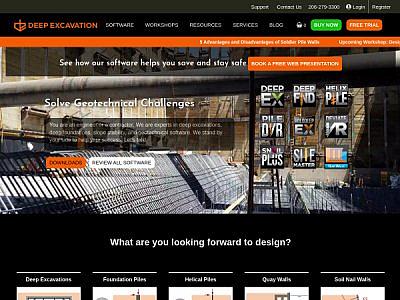 Deep Excavation LLC is the developer of 8 civil engineering softwares currently listed at CESDb. Please visit developers website for software support, product updates, licenses and other information about DeepEX, Steel Connect, Steel-Beam, HelixPile, DeepFND, Trench.
Keywords: program, software, geotechnical, range, dimensional, inclinometer, deepxcav
For more information please visit: http://deepexcavation.com
Software by Deep Excavation LLC
Design of Embedded Earth Retaining Walls
DeepXcav is a software program for the design of embedded earth retaining walls with limit-equilibrium and advanced non linear elastoplastic analysis methods. DeepXcav offers a one-stop complete geotechnical and structural solution for deep excavation.
Deep Foundation and Pile Design
DeepFND is a powerful interactive software for deep foundation and pile design. Axial, lateral, settlement, structural and geotechnical analysis options.
HelixPile is a user friendly, modern and powerful software program for the design of helical piles.
Sloped Inclinometers Monitoring
SiteMaster is a modern and powerful software program for processing and presenting inclinometer readings.
SnailPlus is a powerful soil nailing wall analysis and design software program. SnailPlus analyzes soil nailing walls according to FHWA design standards and methodologies.
Analysis Of Steel Beams Subjected To Combined Bending And Axial Loading
Steel-Beam is a user-friendly robust program that allows the combined stress evaluation of steel beams and steel columns under combined axial and flexural loads.
Design And Evaluate Steel Connections
Steel-Connect is a user friendly affordable software steel connection design aid for the typical structural engineer. Typical steel connections can be designed in less time using the autodesign feature or user specified steel connections can be investigated.
Evaluate The Stability Of Bentonite Slurry Trenches And Panels
Trench is a user friendly, affordable, and versatile software program that evaluates the stability of slurry supported trenches and panels for 2D and 3D analyses.