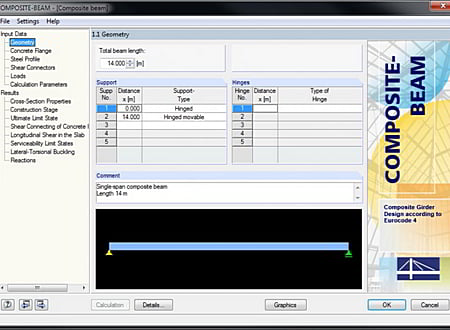 DOWNLOADS :
UserDownloads:

287
COMPOSITE-BEAM
Description
The COMPOSITE-BEAM program performs design of composite beams according to ENV 1994-1-1:1992-10.
The program is based on bidirectional communication between RSTAB and the add-on modules. However, an RSTAB license is not required for using COMPOSITE-BEAM (stand-alone operation is possible).
Features
Single-span and continuous beams with definable boundary conditions
Automatic determination of effective cross-sections
Free arrangement of construction supports for construction stage
Free definition of concentrated, linear and linearly variable loads as fixed and variable loads with specification of concrete age on loading
Freely definable construction loads as well as moving construction loads
Automatic load combination
Calculation of cross-section properties according to Method 1 or 2
Calculation of elastic internal forces with RSTAB
Redistribution of moments
Design of bending and shear force resistance with interaction
Determination of required shear connectors and their distribution
Design of longitudinal shear force resistance
Results of governing support reactions for construction and composite stage including loads of construction supports
Lateral-torsional buckling analysis
Analysis for limitation of crack widths
Design of natural frequency
* COMPOSITE-BEAM download link provides trial version of the software.
Similar Software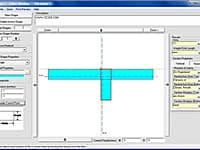 Section properties for composite beams
CBeam 2. 0 is a windows application that calculates section properties for composite beams.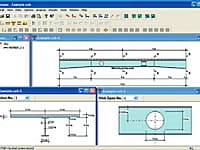 Analyse and Design Studded Composite and Non-Composite Steel Beams
Compos is a unique composite beam design software program to analyse and design studded composite and non-composite steel beams.
ACOBRI
Version:5.03 · ArcelorMittal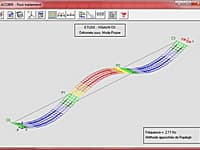 Composite Bridges Preliminary Design to Eurocodes
ACOBRI is a software developed by the CTICM for ArcelorMittal to optimize the preliminary design of structures with composite steel-concrete deck.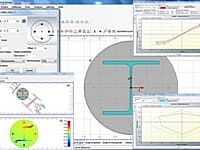 Structural Cross Sections (concrete, steel, composite etc.)
Cross Section Analysis and Design can handle structural cross sections that are built up of one or more geometric entities and can be drawn directly using the versatile featured user interface.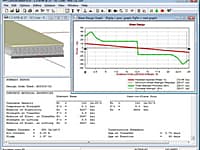 Design Of Precast Concrete Beams
Concise Beam is an easy to use program for the design of precast concrete beams.
CRANEWAY
Version:8-18-01 · Dlubal Software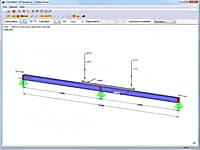 Design of Crane Runway Girders
The stand‑alone program CRANEWAY provides effective analysis and design of craneway girders.
Comments & Reviews
About COMPOSITE-BEAM
No comments yet. Be the first to comment.
Submit a review using your Facebook ID