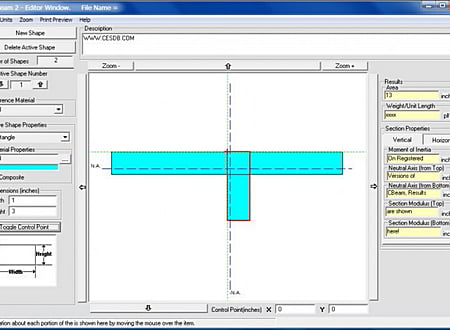 SOFTWARE :
CBeam Composite Beam
DOWNLOADS :
UserDownloads:

1181
Legacy Software Notice:
Please be advised that CBeam Composite Beam is considered outdated or legacy, and it has reached the end of its support and update cycle. As a result, compatibility issues may arise, and its functionality cannot be guaranteed on modern computer systems.
Program Description
CBeam 2. 0 is a windows application that calculates section properties for composite beams. CBeam is a time saving and helpful tool to virtually any engineer, and it is an excellent compliment to any design or analysis software.
With CBeam, a composite beam section can be created and edited graphically using any combination of rectangle, triangle or I-beam shapes. Each shape can have it's own material properties such as weight and modulus of elasticity, and it can either be composite or non-composite to the beam. CBeam calculates; area, weight per unit length, moment of inertia, location of the neutral axis, and section modulus. CBeam has an interactive help file which serves as program documentation. All information, including graphics, can be printed
* CBeam Composite Beam download link provides trial version of the software.
Similar Software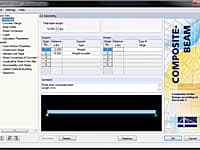 Design of Composite Beams According to ENV 1994-1-1:1992
The COMPOSITE-BEAM program performs design of composite beams according to ENV 1994‑1‑1:1992‑10.
BAP
Version:3.4 · Juntunen Bridge Systems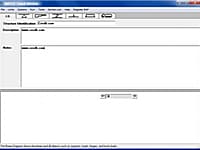 BAP is a continuous beam analysis program that solves for reactions, shear, moment, deflection, and rotation at points along the length of the beam.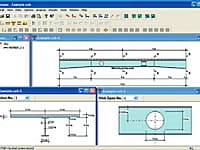 Analyse and Design Studded Composite and Non-Composite Steel Beams
Compos is a unique composite beam design software program to analyse and design studded composite and non-composite steel beams.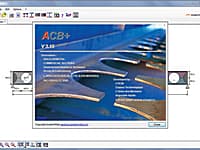 Predesign of Steel or Composite Cellular Beams with Circular Openings
Predesign of steel or composite cellular beams with circular openings in cold and fire conditions.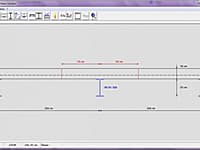 Calculation of Steel, Partially Encased, Composite, or Integrated Beams
ABC: ArcelorMittal Beams Calculator is a free pre-design tool for use in designing a variety of steel and composite structures such as portal frames, beam and column structures, trusses, and column-beam connections.
Comments & Reviews
Submit a review about CBeam Composite Beam software with your social media profile