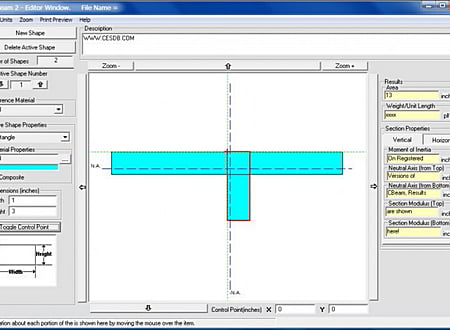 SOFTWARE :
CBeam Composite Beam
DOWNLOADS :
UserDownloads:

737
CBeam Composite Beam
Description
CBeam 2. 0 is a windows application that calculates section properties for composite beams. CBeam is a time saving and helpful tool to virtually any engineer, and it is an excellent compliment to any design or analysis software.
With CBeam, a composite beam section can be created and edited graphically using any combination of rectangle, triangle or I-beam shapes. Each shape can have it's own material properties such as weight and modulus of elasticity, and it can either be composite or non-composite to the beam. CBeam calculates; area, weight per unit length, moment of inertia, location of the neutral axis, and section modulus. CBeam has an interactive help file which serves as program documentation. All information, including graphics, can be printed
* CBeam Composite Beam download link provides trial version of the software.
Similar Software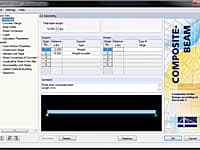 Design of Composite Beams According to ENV 1994-1-1:1992
The COMPOSITE-BEAM program performs design of composite beams according to ENV 1994‑1‑1:1992‑10.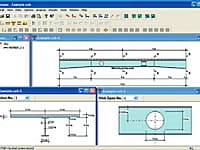 Analyse and Design Studded Composite and Non-Composite Steel Beams
Compos is a unique composite beam design software program to analyse and design studded composite and non-composite steel beams.
BAP
Version:3.4 · Juntunen Bridge Systems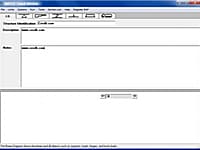 BAP is a continuous beam analysis program that solves for reactions, shear, moment, deflection, and rotation at points along the length of the beam.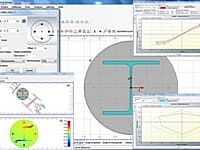 Structural Cross Sections (concrete, steel, composite etc.)
Cross Section Analysis and Design can handle structural cross sections that are built up of one or more geometric entities and can be drawn directly using the versatile featured user interface.
CoSFB
Version:1.6 · ArcelorMittal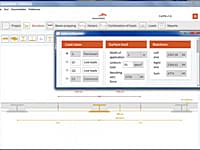 ArcelorMittal Composite Slim-Floor Beams
CoSFB (Composite slim floor beams), a new development by ArcelorMittal, combines the advantages of composite design with traditional slim floor construction and is the perfect answer to the demands of long spans in modern architecture.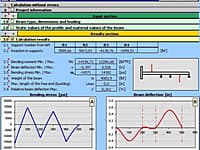 Straight beams with a constant cross-section
The application is designed for calculations of straight, maximum three times static indefinite beams with constant axis-symmetrical profiles.
Comments & Reviews
About CBeam Composite Beam
No comments yet. Be the first to comment.
Submit a review using your Facebook ID