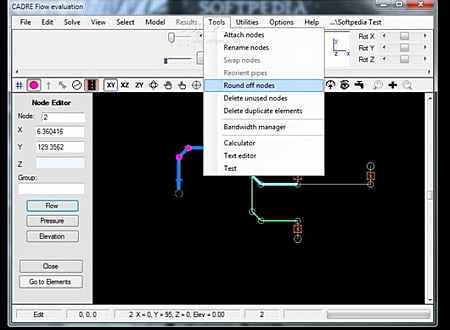 Last Update :
12 January 2016
Downloads :
UserDownloads:

463
CADRE Flow is developed using the basic principles of finite element method as applied to the hydraulics flow field. It is intended for solving incompressible fluid flow in piping systems, hydraulic systems, and fluid flow networks. There is virtually no limit to the degree of complexity (joints, lines, and line segments) that can be solved. Although limited to incompressible flow in pipes, CADRE Flow can be used to handle low speed air flow systems such as ventilation ducts where the overall pressure differential is small.
The piping system is the medium that forms the finite element analogy. In CADRE Flow, the elements are considered as pipes and the nodes are connecting points for the pipes or intermediate points in pipes where information such as pressure is desired.
The solution is conducted on a specific defined piping system which may be part of a larger system as long as the information at the defined boundaries are sufficient to solve the model.
The system may contain different properties of temperature, viscosity, and vapor pressure for the fluid in different parts of the system allowing one to investigate the effects of hotter or colder fluids after a heat exchanger.
Similar Software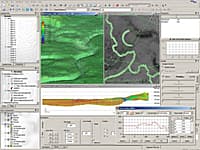 Modeling fluid flow and transport of dissolved constituents
FEFLOW is a professional software package for modeling fluid flow and transport of dissolved constituents and/or heat transport processes in the subsurface. FEFLOW contains pre- and post processing functionality and an efficient simulation engine.
HYDROFLO
Version:3.0 · Tahoe Design Software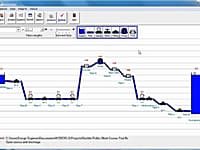 HYDROFLO determines the steady-state flows and pressures and other operating parameters in single source/single discharge, gravity and pumped flow systems.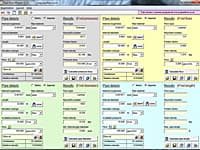 Flow & Pressure Calcs on single pipes
Pipe Flow Wizard is able to perform four different flow and pressure drop calculations on a single pipe depending on the known information.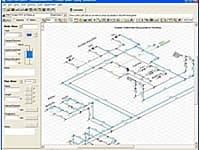 Flows & Pressures in Complex Networks
Pipe Flow Expert is designed to help todays engineers analyze and solve a wide range of problems where the flow and pressure loss throughout a pipe network must be determined.
Steady and Nonsteady Flow in an Irregularly Shaped Flow System
MODFLOW-2005 (Harbaugh, 2005) simulates steady and nonsteady flow in an irregularly shaped flow system in which aquifer layers can be confined, unconfined, or a combination of confined and unconfined.
Comments & Reviews
About CADRE Flow
No comments yet. Be the first to comment.
Submit a review using your Facebook ID