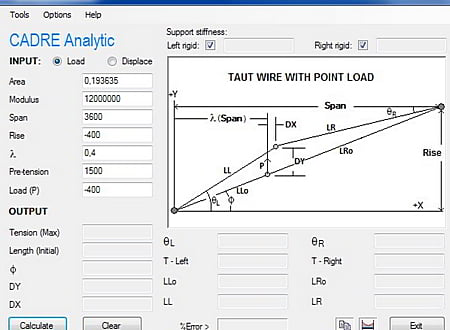 DOWNLOADS :
UserDownloads:

282
Program Description
CADRE Zipwire is a tool that can be used to analyze taut elastic wires or cables with a point load. Zipwire solves a class of the hanging or taut cable problem using basic classical geometry and static analyses along with elastic considerations.
Zipwire was initially developed as a free auxiliary application for users of CADRE Pro but by popular interest has now been made commercially available to others for separate purchase.
Zipwire has two modules of operation
Analysis of taut wire systems (with or without flexible supports)
Analysis of suspension cable systems (catenary or parabolic)
* CADRE Zipwire download link provides trial version of the software.
Similar Software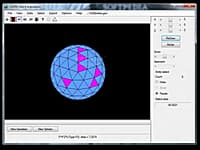 Design application for generating geodesic and spherical 3D
CADRE Geo is a design utility for generating a wide variety of geodesic and spherical 3D (wire frame and surface models) for CAD or finite element analysis applications or for generating detail design data for the members that make up the structure.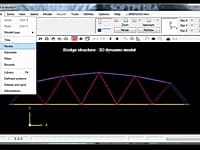 Finite Element Structural Analysis Application for Plate & Beams
Cadre Analytic can provide structural analysis reports prepared by licensed professional engineers for many types of structures, from the very small to the very large.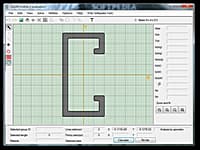 Design and analysis of custom cross section profiles
CADRE Profiler is used to design section profiles and determine their geometric properties for custom beam cross sections which can be composed of different materials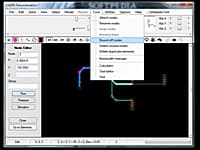 CADRE Flow is developed using the basic principles of finite element method as applied to the hydraulics flow field.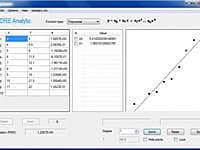 Multifunctional Curve Fitting Application
Regression analysis is a multifunctional curve fitting application provided free of charge.
Comments & Reviews
Submit a review about CADRE Zipwire software with your social media profile