DOWNLOADS :
UserDownloads:

285
Program Description
VAConnect is a set of two steel connection design utilities. Run these stand-alone, or use integrated with VisualAnalysis.
Base Plates
Follows AISC Design Guide #1. Easy input, hand-calculation-like reporting.
Axial and moments
All limit states checked
Anchorage design checks
Shear Tabs
Design beam-to-column single-plate shear tab connections per AISC 360.
Welded to supporting element
Bolted beam connection
All limit states checked
VAConnect Specifications
Base Plate Benefits
AISC Design Guide 1 (DG1)
Base plate per AISC 360-10
Concrete per ACI 318-14
Anchorage per ACI 318-14
Anchorage breakout graphics
Specify reinforcing to prevent breakout
Concrete bearing
Steel plate bending
Base plate detailing
Bolt tension
Single anchor tension breakout
Anchor group tension breakout
Tension pullout
Single anchor side blowout
Anchor group side blowout
Bolt shear
Anchor group shear breakout
Single anchor shear pryout
Anchor group shear pryout
Anchorage tension and shear interaction
Anchorage detailing
Shear Tab Benefits
Steel design per AISC 360-10
Eccentric bolt group shear
Eccentric bolt group bearing
Eccentric fillet weld shear
Weld base metal shear rupture
Shear tab plate shear yielding
Shear tab plate shear rupture
Shear tab plate block shear
Beam web block shear (axial loads only)
Shear tab plate combined tension rupture
Shear tab shear, bending, and axial interaction
Shear tab plate local buckling
Shear tab stabilizer plate limit
Detailing Checks
* VAConnect download link provides trial version of the software.
Similar Software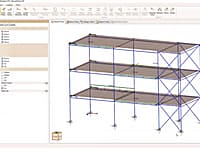 IES VisualAnalysis is an easy to learn software for general-purpose frame and finite-element analysis.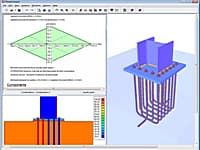 PowerConnect is the perfect software to design quick and easy different types of steel connections.
csJoint
Version:14 · ConSteel Solutions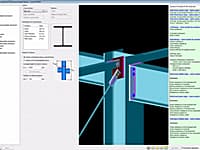 csJoint connection design software can be run as a stand-alone application and proved to be an efficient tool for structural connection design.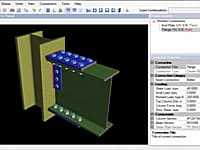 RISAConnection is a useful program designed to assist engineers in finishing steel structures by creating welds and connections between the elements.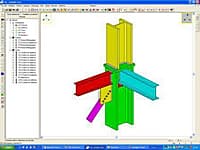 Steel Connections Design and Check
C. S. E. , Connection Study Environment, is a Windows software program completely devoted to the design, study and check of steel structures joints.   The C. S. E.
Comments & Reviews
Submit a review about VAConnect software with your social media profile