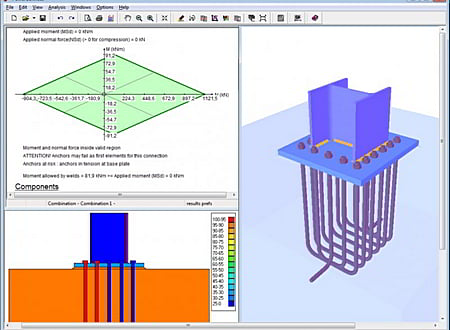 DOWNLOADS :
UserDownloads:

418
Program Description
PowerConnect is the perfect software to design quick and easy different types of steel connections. Easy and fast definition of connections from an extensive library of typical connection designs. Quick graphical editing of connection with a simple mouse click, directly on the 3D representation.
Optimization of bolt positions according to EN 1993-1-8, IS 800 and AISC-LRFD. Fast identification of undersized and oversized components through colour coding on connection geometry of each component's level of exhaustion.
Creation of drawings including annotation. Export capability to DXF, allowing for further elaboration in CAD environment. Automated creation of design analysis report with preview capability. Report can be saved as RTF file.
Connection types
- Moment connections
End plate, angles or welded
Extras: haunches, stiffeners, ...
Optimal bolt positions
M, V and N
Rotational stiffness graph
- Shear connections
Shear end plate
Fin or single plate
Angles
Optimal bolt positions
V and N
- Column bases
I or rectangular cross-section
Stiffeners and cramps
Straight or bent anchors
M, V and N
Rotational stiffness graph
- Tubular connections
Type T, Y, DY, X, K, N, KT & DK
Round, square, rectangle or I cross-sections
M_i, M_o and N
* PowerConnect download link provides trial version of the software.
Similar Software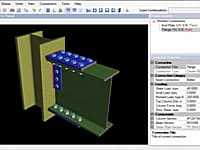 RISAConnection is a useful program designed to assist engineers in finishing steel structures by creating welds and connections between the elements.
csJoint
Version:14 · ConSteel Solutions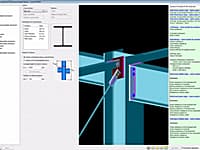 csJoint connection design software can be run as a stand-alone application and proved to be an efficient tool for structural connection design.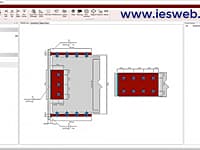 Steel Connection Design For Visualanalysis
VAConnect is a set of two steel connection design utilities. Run these stand-alone, or use integrated with VisualAnalysis.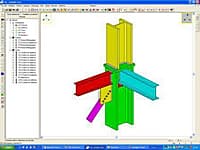 Steel Connections Design and Check
C. S. E. , Connection Study Environment, is a Windows software program completely devoted to the design, study and check of steel structures joints.   The C. S. E.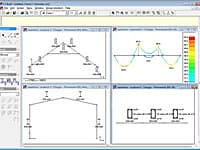 Predesign of 2D Frames In Steel, Concrete or Timber
1•2•Build is the ideal software to easily design beams, columns and simple 2D structures in steel, concrete of timber.
Comments & Reviews
Submit a review about PowerConnect software with your social media profile