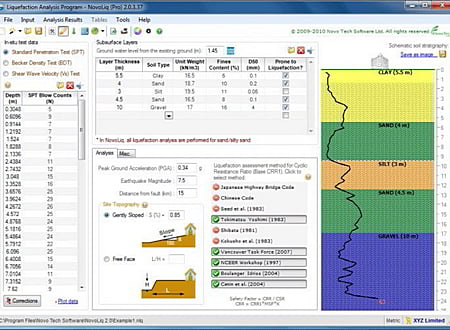 DOWNLOADS :
UserDownloads:

1459
NovoLiq is designed as a very flexible and comprehensive soil liquefaction analysis software which can compare more than 10 different methods. This robust software is designed for soil liquefaction analysis during earthquake and supports multi-layer as well as single layer stratigraphy. The results of the analysis are presented as:
Safety Factor Against Soil Liquefaction
Probability of Soil Liquefaction
Post-liquefaction Site Condition
NovoLiq supports the following field tests for liquefaction triggering (full description of theory is included in our users manual):
Standard Penetration Test (SPT)
Becker Denseness Test (BDT)
Shear Wave Velocity (Vs)
Soil resistance (CRR) is calculated based on:
Japanese Bridge Code
Chinese Code
Seed et al. (1983)
Tokimatsu-Yoshimi (1983)
Shibata (1981)
Kokusho et al. (1983)
Vancouver Task Force (2007)
NCEER Workshop (1996)
University of California at Davis (2004)
Cetin & Seed (2004)
* NovoLiq download link provides trial version of the software.
Similar Software
VisLog
Version:4.0 · Novo Tech Software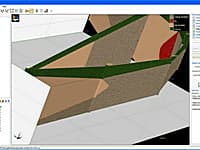 Using VisLog, the user will be able to enter borehole information including the stratigraphy, coordinates, ground water level, etc.
NovoLAB
Version:4.0 · Novo Tech Software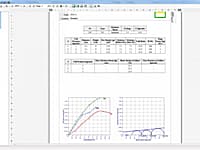 Soil Mechanics Log Drafting and Lab Test
NovoLAB is the most comprehensive geotechnical software for lab data management and borehole log drafting.
LateralK
Version:4.0 · Novo Tech Software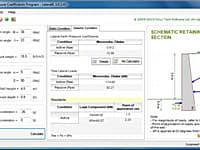 LateralK is a simple software for calculating lateral earth pressure coefficients and forces behind retaining walls in static and earthquake condition based on Rankine/ Coulumb formulas and also Mononobe/ Okabe methods.
Peysanj
Version:5.2 · Novo Tech Software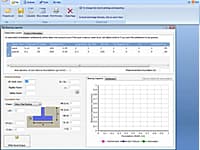 Peysanj is a series of geotechnical engineering modules such as bearing capacity and settlement, pressure-meter test, plate loading test, soil liquefaction analysis, etc bundled as single software.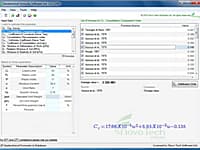 Geotechnical engineers can use this software for day-to-day analysis and calculations.
NovoBPT
Version:2.0 · Novo Tech Software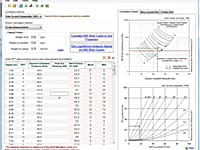 NovoBPT is designed for correcting raw BPT blow counts (Nb) and converting them to SPT blow counts (N60).
Comments & Reviews
About NovoLiq
No comments yet. Be the first to comment.
Submit a review about NovoLiq software with your social media profile