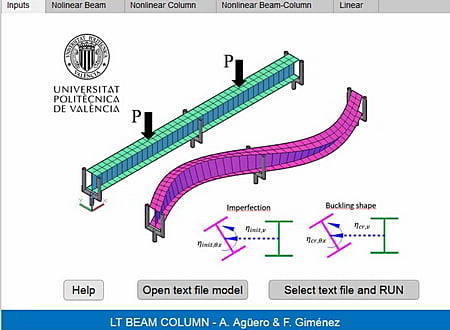 FILE SIZE :
Web Application
DOWNLOADS :
UserDownloads:

163
The following application allows determining the resistance capacity of compressed and deflected pieces with a double tee section, susceptible to lateral buckling. For this, the magnitudes of the equivalent imperfections are obtained and the imperfect structure is analyzed. Type of analysis can be elastic or plastic.
Results the following plots are shown
LTBEAM Analysis of the imperfect structure considering N=0.
LTCOLUMN Analysis of the imperfect structure considering My=0.
LTBEAMCOLUMN Analysis of the imperfect structure considering.
Linear analysis of the perfect structure
* LTBEAMCOLUM download link provides freeware version of the software.
Similar Software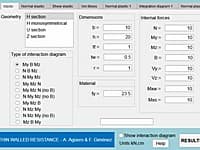 ThinWallRes allows to determine the resistance capacity of open thin-walled sections.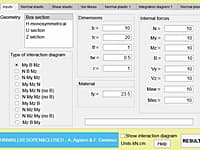 Elastic and Plastic Resistance of Open and Thin Walled Sections
Thinwallres Open&Closed application allows to determine the resistance capacity of open and closed thin-walled sections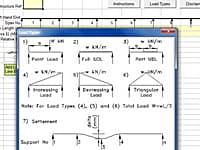 Analysis for Static Loads and Settlement at Supports
Calculates bending moments and shear forces for loads on a single span or continuous multi-span beam using the moment distribution method.
Phaethon
Version:1.0 · Konstantinos G. Megalooikonomou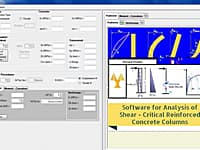 Analysis of Shear - Critical Reinforced Concrete Columns
The stand-alone Windows program Phaethon with user's interface written in C++ offers analysis of shear - critical reinforced concrete columns to its user both for rectangular but also for circular reinforced concrete columns.
PERFORM-3D
Version:7.0 · Computers and Structures Inc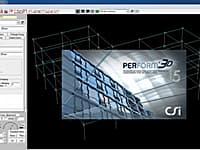 Nonlinear Analysis and Performance Assesment for 3-D Structures
PERFORM-3D is a general tool for implementing displacement-based design, analysis and performance assesment for 3-d structures.
LPILE
Version:11.7 · Ensoft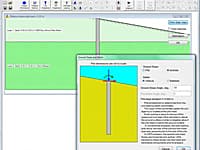 Analysis of Piles and Drilled Shafts Under Lateral Loads
LPILE is a special-purpose program based on rational procedures for analyzing a pile under lateral loading using the p-y method.
Comments & Reviews
About LTBEAMCOLUM
Submit a review about LTBEAMCOLUM software with your social media profile