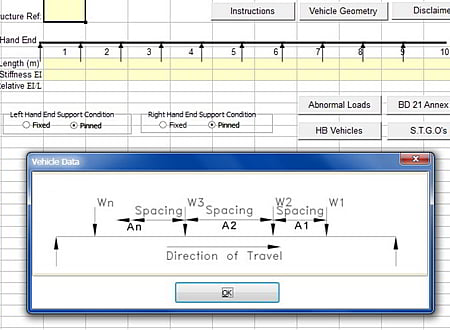 SOFTWARE :
Line Beam Analysis for Moving Vehicle Loads
DOWNLOADS :
UserDownloads:

2795
Program Description
Abnormal Load Vehicles, HB Vehicles, BD21 Annex D Vehicles, the Standard Fatigue Vehicle and BD86 STGO Vehicles are analysed as moving loads across a single or multi-span continuous line beam to determine critical bending moments, maximum reactions and shear forces, with the facility to save the results. Abnormal load configurations may also stored in the workbook.
* Line Beam Analysis for Moving Vehicle Loads download link provides freeware version of the software.
Similar Software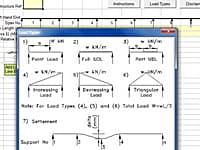 Analysis for Static Loads and Settlement at Supports
Calculates bending moments and shear forces for loads on a single span or continuous multi-span beam using the moment distribution method.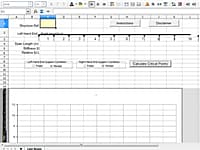 Influence Line Diagrams for Single or Multispan Decks
Influence Line diagrams for bending moments at critical sections in a single or multi-span continuous beam.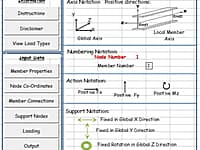 Bending Moments, Axial and Shears Forces in a Plane Frame
A Plane Frame Analysis for bending moments, axial and shears forces in a plane frame structure under point loads, UDL's, linearly varying distributed loads (soil pressures) and moments.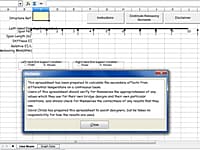 Differential Temperature Effects on a Continuous Beam
This spreadsheet calculates the secondary effects (bending moments and shear forces) produced by the releasing moment from differential temperature effects on a continuous beam.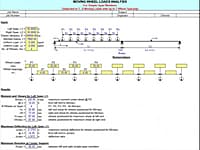 Simple-Span Members Subjected To 1-8 Moving Wheel Loads
MOVLOADS is a spreadsheet program written in MS-Excel for the purpose of analysis of simple-span members subjected to from one up to eight moving wheel loads with up to seven wheel spacings.
Comments & Reviews
Submit a review about Line Beam Analysis for Moving Vehicle Loads software with your social media profile