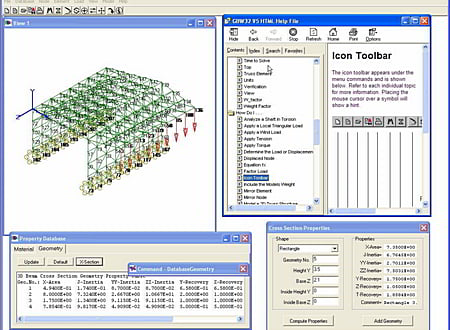 LICENSE :
Free for non-commercial use
DOWNLOADS :
UserDownloads:

1814
Program Description
GBW32 V5. 0 is a 3D Finite Element program that uses truss and beam elements to model a wide range of Mechanical and Civil structures.
The graphical user interface is powerful and easy to use to quickly model a structure, apply loads and constraints, and analyze the model. GBW32 supports release nodes for all loadings, batch analysis, auto analysis, has an undo/redo feature and a built in property section calculator. Displacements, loads, stress information and animation are available to determine the effect of the applied loading and constraints.
Results can be viewed with a few mouse clicks. Models can be imported/exported as a DXF file. Model, material and geometry files are ASCII text and can be created/edited within the program or from another source.
Loads available include global loads and moments at nodes, global uniform loads, acceleration and angular velocity. Local element loads include trapezoidal loads, axial, torsion, moment and thermal loads. Constraints or springs to ground can be applied in all 6 degrees of freedom. Models can be created within the graphical environment or imported as a DXF file.
When the software is downloaded and installed it runs as a COMPLETE software package with NO RESTRICTIONS. The software can be registered at any time. If the software continues to be used it must be registered.
* Grape GBW32 download link provides free for non-commercial use version of the software.
Similar Software
FEMTA
Version:0.7.1 · Shacristo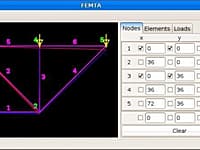 3D truss analyzer using finite element methods
Easy to use 3D truss analyzer using finite element methods. It has an easy graphical interface where you can define, loads, nodes and elements.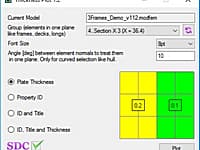 Display Plate Elements Thicknesses For Flat Elements Selections
Thickness Plot is created to display plate elements thicknesses for flat elements selections like frames, decks and longitudinals in Femap.
ROSHAZ
Version:2011 · Roshaz Software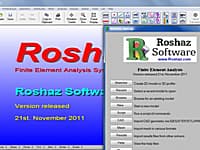 Aimed at solution of complex solids with realistic and advanced boundary condition simulations using either the integrated solver or a choice of several other well known solvers which can be run seamlessly within the program environment.
RS3
Version:4.0 · Rocscience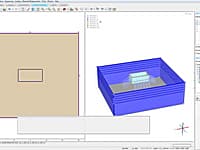 3D Finite Element Analysis for Rock and Soil
RS3 is a 3D finite element analysis program that can be used for a wide range of applications in both rock and soil, such as underground excavations, sequenced tunneling, surface excavations, slope stability, seepage analysis, consolidation analysis, and much more.
QuadMaker
Version:1.0 · Computations & Graphics, Inc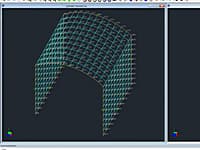 QuadMaker is an interactive 64-bit Windows finite element mesh generator that produces 100% quadrilateral elements (shell4) on planar and curved surfaces in 3D space.
Comments & Reviews
Submit a review about Grape GBW32 software with your social media profile