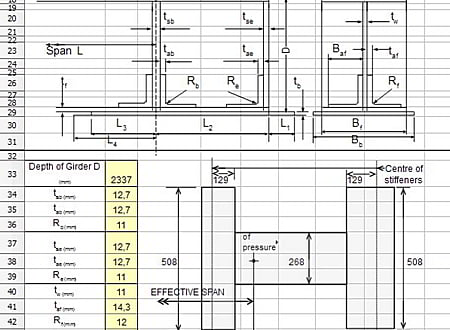 DOWNLOADS :
UserDownloads:

1723
Program Description
The effective span and maximum bearing pressure for a plate girder with no specific bearing is calculated in accordance with BD 56/10 clause 16 and Figure 16.1A.
The spreadsheet assumes that the layout at the ends of the beam are the same. If the girder has different end layouts then two spreadsheets will be required (one for each arrangement) and the average of the two results will give the effective span.
* Effective Span download link provides freeware version of the software.
Similar Software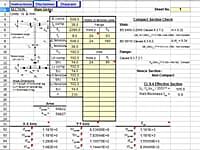 Section Properties Of A Riveted Plate Girder
Section properties of a riveted plate girder to BD 56/10 and BS5400-3:2000 with facility to allow for corroded elements.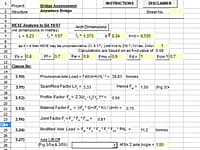 Mexe Analysis To Bd 21/01 And Ba 16/97 For Single Span Masonry Arch
The modified MEXE analysis to BD 21/01 and BA 16/97 for single span masonry arch with option for axle lift-off.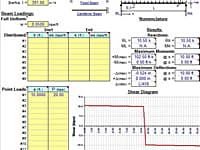 Single-Span & Continuous-Span Beam Analysis
BEAMANAL is a MS-Excel spreadsheet workbook for the analysis of single-span beams (simple, propped, fixed, or cantilever) and continuous beams of up to 5 spans.
STEPCOL
Version:1.1 · Alex Tomanovich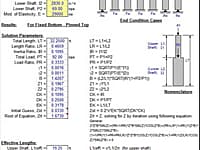 Stepped Column Analysis for Determining Effective Lengths
Stepped column analysis for determining effective lengths and effective length K factors.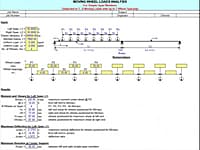 Simple-Span Members Subjected To 1-8 Moving Wheel Loads
MOVLOADS is a spreadsheet program written in MS-Excel for the purpose of analysis of simple-span members subjected to from one up to eight moving wheel loads with up to seven wheel spacings.
Comments & Reviews
Submit a review about Effective Span software with your social media profile