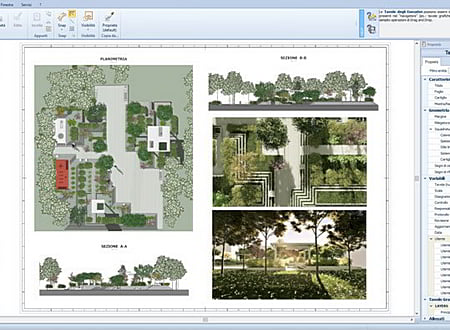 DOWNLOADS :
UserDownloads:

201
Program Description
Edificius LAND is the BIM software for landscape architecture and garden design. Edificius LAND allows you to model in both 2D and 3D. You can instantly access the objects used in any of your views modifying them whenever necessary. Edificius LAND allows you to design gardens and landscapes with high quality dedicated objects, picking them up directly from its rich BIM objects library which is free and available both locally and online. The solution for architects, landscape architects, companies and professionals that need to:
Design public spaces perfectly which need to be perfectly integrated with the architectural design of buildings, urban parks, gardens, etc.
Produce highly detailed visually appealing project presentations using the best Rendering Engines available today choosing between Ray Tracing technology equipped with Artificial Intelligence (AI) Denoising and advanced Real-Time rendering (RT) and immersive Virtual Reality (VR) technologies.
Model your land plots and terrain areas with super-fast but easy to use modelling tools to simulate earthworks phases including cuts & fills and get dynamically calculated volume data relating to the excavation amounts.
Why is Edificius LAND the key solution public spaces and garden design?
- MODEL YOUR TERRAIN
Using contour lines and contour plans from topographic land surveys in the DXF or DWG formats or directly from Google Maps®
- DESIGN IN 2D/3D
Use a huge number of optimized BIM objects available in the online library or even import your own custom 3D models in the SketchUp®, Blender®, Collada® 3dsMax® file formats, etc.
- GET DETAILED PROJECT DRAWINGS
Automatically generate area plans, cross-sections, axonometric views, legends... directly from the 3D BIM model of your project and, if necessary, export them in the DXF and DWG file formats.
- DYNAMIC CONSTRUCTION COST ESTIMATES
Earthworks aspects including volume data for cut & fill operations are automatically calculated in background while you continue to work on your landscaping project
- PRODUCE HIGH QUALITY RENDERS
Visually impressive presentations and renderings at your finger-tips with Real-Time rendering and high-resolution video
- TAKE A VIRTUAL TOUR
Immersive experiences with interactive design and modelling tools while in the VRiBIM viewing technology, fully integrated in the software
* Edificius LAND download link provides trial version of the software.
Similar Software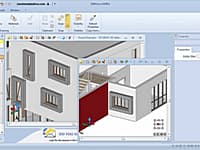 Edificius is the Architectural BIM Design software that allows you to generate floor plans, elevation views, cross-sections, isometric and perspective views with a simple 2D or 3D input.
PriMus
Version:BIM 2(d) · ACCA Software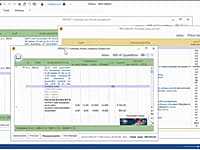 BIM for Construction Estimating
The ideal software for designers and companies who want to optimize their construction cost management activities.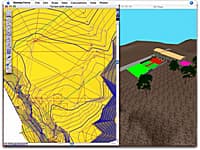 Surveys, Land Modeling, Landscape
Nonio C is a program for modeling large topographic and cartographic surveys using triangles, contour lines, slope charts, color shading, sections, and three-dimensional views.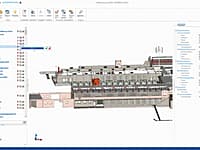 View and Edit BIM Models in the IFC Standard
usBIM. viewer+ gives you the possibility to view, convert and edit IFC files in a single software certified by buildingSMART International and completely free.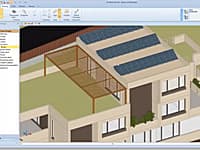 Solarius PV is the BIM software for photovoltaic systems design already used for thousands of different types of installations all over the world.
Comments & Reviews
Submit a review about Edificius LAND software with your social media profile