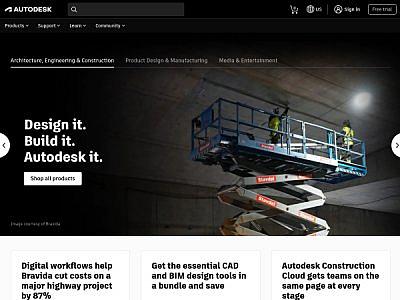 Autodesk is a world leader in 3D design software for entertainment, natural resources, manufacturing, engineering, construction, and civil infrastructure.
CESDb currently lists 8 software developed by Autodesk Inc., including Advance Steel, AutoCAD, Revit, Point Layout, AutoCAD LT, Autodesk Viewer.
You can also visit developers official website http://autodesk.com for software support, product updates, licenses and other information.
Software by Autodesk Inc.
3D Modelling Software for Steel Detailing, Design, Fabrication and Construction
Advance Steel is specifically designed for structural engineers and steel detailers who require professional and easy-to-use BIM structural steel detailing software that automates the production of drawings, BOMs and NC files.
CAD Design, Drafting, Modeling, Drawing and Engineering
AutoCAD is a commercial software application for 2D and 3D computer-aided design, drafting, modeling, drawing, and engineering.
2D CAD software for drafting, detailing, and editing
For 2D drafting, AutoCAD LT delivers AutoCAD software's 2D drawing tools at a cost-effective price.
2D Drafting Tool on Mobile Devices
AutoCAD mobile is a DWG viewing application, with easy-to-use drawing and drafting tools that allow you to view, create, edit and export AutoCAD drawings on mobile devices.
Online Viewer for 2D and 3D Designs
Autodesk Viewer is a free online viewer for 2D and 3D designs including AutoCAD DWG, DXF, Revit RVT and Inventor IPT, as well as STEP, SolidWorks, CATIA and others.
Point Placement and Construction Layout
Point Layout construction layout software helps contractors and subcontractors bring model accuracy to the field.
BIM tools for architectural design, MEP, and structural engineering
Autodesk Revit is building information modeling software for architects, structural engineers, MEP engineers, designers and contractors.
Robot Structural Analysis Professional is structural load analysis software that verifies code compliance and uses BIM-integrated workflows to exchange data with Revit.