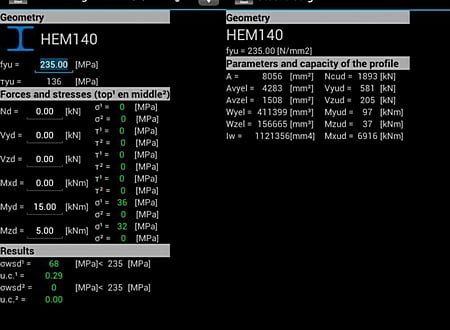 DOWNLOADS :
UserDownloads:

548
Program Description
This Steel Design App lets you determine the elastic stresses at the top and in the middle of a beam, given the forces on the beam based on the theory of Huber-Hencky. Axial force, double shear and double bending are included.
Features:
Input Mx, My, Mz
Both US and metric units
Select an arbitrary beam from our Engineering Libraries app
Outputs stresses and unity check
Integration with our Frame Design 2D app.
Export possibilities
Graphs
* SteelDesign download link provides freeware version of the software.
Similar Software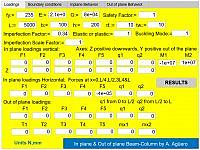 The Elastic and Plastic Design of Slender Steel Structures With Class 1, 2 Plastic Behavior, or 3 Elastic Behavior
The following application allows determining the movements, forces, and resistant capacity of compressed pieces, bent along the strong, weak axis, and torsion with a double tee section, susceptible to lateral buckling.
BOEF
Version:1.6 · Alex Tomanovich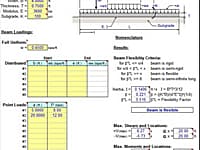 Beam on Elastic Foundation Analysis
BOEF is a spreadsheet program written in MS-Excel for the purpose of analysis a finite length beam with free ends supported continuously on an elastic foundation.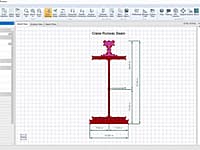 ShapeBuilder calculates geometric section properties, like area, moment of inertia, etc.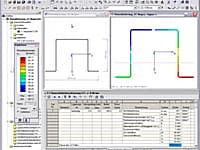 Properties and Stresses of Thin-Walled Cross-Sections
SHAPE‑THIN determines section properties of any thin-walled cross‑section and calculates the stresses. In addition, you can perform plastic design.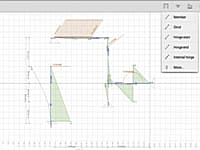 This intuitive and feature rich finite element app is especially useful for civil engineers, mechanical engineers, architects and students who wish to design 2D frames.
Comments & Reviews
Submit a review about SteelDesign software with your social media profile