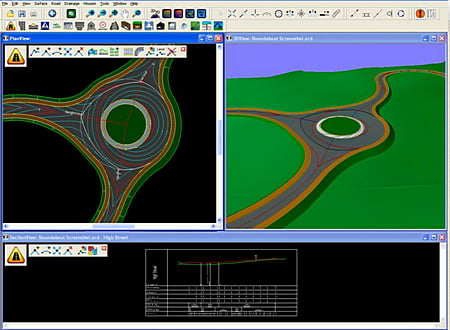 DOWNLOADS :
UserDownloads:

723
Program Description
Site3D is a fully featured software product for the engineering design of road systems and housing developments. Quickly and accurately design whole sites including roads, junctions, roundabouts, footways, surface interfacing, contours, volumes, drainage, housing and more.
Site3D is a powerful software tool for the 3D engineering design of road schemes and infrastructure.
Comprehensive facilities include tools for road placement in horizontal and vertical, automated junctions and roundabouts, varying carriageway width, spiral curve transitions, super-elevation, interface grading, earthworks, ponds and drainage.
Road Networks Made Easy :Site3D is capable of handling both complex road networks with varying width roads as well as major highways, link roads and bypasses. Site3D's automatic junctioning makes linking roads a breeze.
Volume Calculation and Isopachyte bands : One click formation surface generation with instant cut and fill volume calculation and automatic isopachyte depth banding at the touch of a button.
BIM : Easily integrate Site3D into your BIM collaboration system by simply exporting the design in the BIM IFC file format. The IFC file loads straight into your BIM collabroation software of choice (e.g. Revit / Navisworks), including layer naming which follows the BS1192:2007 guidlines, and solid objects with their design attribute information.
3D Junctions : Junctions automatically calculate the optimal vertical kerb-return design to tie the roads together both horizontally and vertically. Whenever design changes are made, the intelligent 3D junctions automatically update to maintain the specified engineering criteria.
3D Roundabouts : Create fully 3D roundabouts in seconds that use the DMRB guidelines. Vehicle driving deflection is calculated automatically so that it is always up-to-date after any design change. The automatic model recalculation means you can simply drag junctions around in seconds and observe the effects of the changes to allow for optimal roundabout design.
Drainage Features : Create drainage runs by placing manholes along the desired path and join runs together by simply clicking the next manhole onto one already on the drawing. The manholes are automatically linked together and all relevant drawings and longsections are instantly updated to show the changes. Export and import with your favourite drainage package.
Earthworks : Create varying interface grades from the edge of your designs to a ground model of your choice. Stepped grades can be easily added for utility strips and other linear design features along the side of roads like swales.
Ponds : Ponds can be easily designed in Site3D. Dynamic cut and fill volumes, as well as water storage volumes, update as you define the pond shape and profile, allowing you to tailor the design to the job specification in minutes.
One-click 2D to 3D Converter : Site3D reads every level text and automatically and intelligently finds the appropriate insertion point. Site3D also assigns levels to the 2D feature lines to form an accurate surface that has surface features well defined in the converted 3D surface.
Dynamic Setting Out : Site3D automatically updates the annotated coordinate and setting-out tables whenever the design changes in any way. This means the setting-out information is always up-to-date.
* Site3D download link provides trial version of the software.
Similar Software
HEADS Site
Version:24 · Techsoft Engineering Services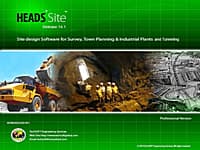 Design For Survey, Town Planning & Industrial Plants And Tunneling
The largest and versatile software for survey, dtm, contouring, site development for township, tunnel, airport, irrigation, water supply projects.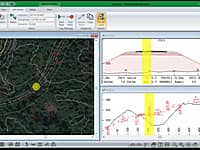 RoadEng is a site and road design software package. It works either as an add-on to other civil design software or as a standalone system. It includes functions for data collection, terrain modelling, contouring, volumes, profiles, sections, and road design.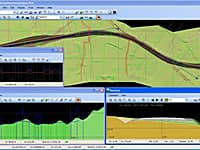 Complete and Autonomous Road Design
Diolkos is a complete and robust solution for designing all types of road projects in a visual multifunctional 3D environment.
RDS
Version:2021 · BAKHTI Software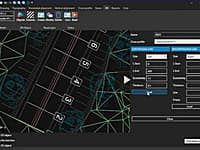 RDS is a low cost infrastructure software dedicated to companies to carry out all categories of linear projects such as road projects, pipeline network projects and sewage network projects.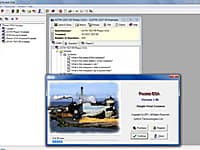 Pocket ESA has been designed to minimize the amount of time required to generate standard Environmental Site Assessment reports and to maximize the flexibility of the final report.
Comments & Reviews
Submit a review about Site3D software with your social media profile