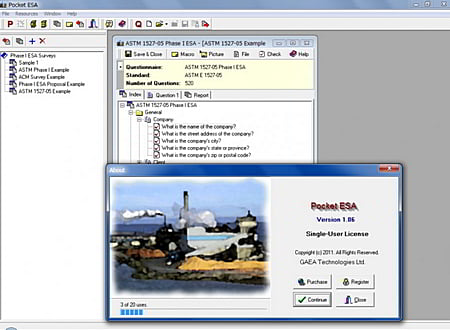 DOWNLOADS :
UserDownloads:

36
Program Description
Pocket ESA has been designed to minimize the amount of time required to generate standard Environmental Site Assessment reports and to maximize the flexibility of the final report. The data can be collected either on a Tabloid, Laptop, or Desktop PC.
A wide variety of reports can be created; including Phase I ESAs, Phase II ESAs, Environmental Compliance, and Transaction Screening. The reports can be tailored to any standard such as CSA and ASTM.
The Pocket ESA program is used to collect answers to pre-designed questions. The data can collected on a Pocket PC, Laptop, or paper form.
These answers are then merged with a report template and a standard report is generated. The merging process allows the user to insert different responses and paragraphs into the report depending upon how a question is answered.
Pocket ESA can be used to generate almost any kind of report, based on a report template and questionnaire. To help you to start using the program as soon as possible, the program comes with several questionnaires and report templates. In addition, GAEA can create the report template and questionnaire tailored to your needs for an additional cost.
The program comes supplied with the following questionnaires and report templates:
ASTM 1527 Phase I ESA
ASTM Phase I ESA
ASTM Phase II ESA
CSA Phase I ESA
Asbestos Survey
* Pocket ESA download link provides demo version of the software.
Similar Software
WinLog
Version:4.0 · GAEA Technologies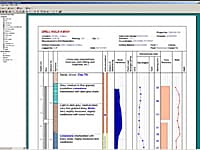 Boring, Borehole and Well Logs
The WinLoG extension module of GaeaSynergy can be used to quickly and easily create, edit and print boring logs, borehole logs and well logs for a variety of industries.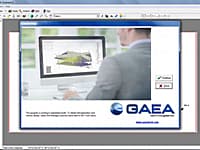 Geoscientific Analyses, Mapping, Data Display and Data Management
GaeaSynergy is an application suite for geoscientific analyses, mapping, data display and data management. The program can be used to evaluate contaminants, soil and rock properties, mineral deposits, and oil and gas deposits.
Site3D
Version:4.5 · Microplot Ltd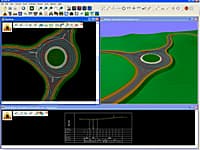 Site and Road Engineering 3D Design
Site3D is a fully featured software product for the engineering design of road systems and housing developments.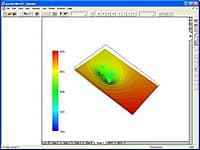 Aquifer test analysis is an integral part of groundwater modeling, supplying critical hydraulic parameters to the model or other basic groundwater calculations.
HEADS Site
Version:24 · Techsoft Engineering Services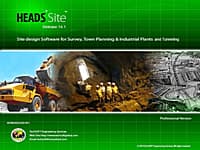 Design For Survey, Town Planning & Industrial Plants And Tunneling
The largest and versatile software for survey, dtm, contouring, site development for township, tunnel, airport, irrigation, water supply projects.
Comments & Reviews
Submit a review about Pocket ESA software with your social media profile