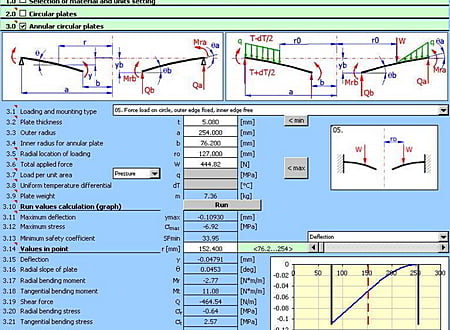 PLATFORM :
Windows / Spreadsheet
DOWNLOADS :
UserDownloads:

2330
Program Description
This calculation deals with the deflection, stress and variation of forces in the loaded flat plates. The calculation is designed for plates that are flat, homogeneous, with the same thickness and made from one material. The plates may be circular, annular circular and rectangular. The plates may be loaded evenly (unevenly) on the whole surface (or its part) or they may be loaded by the force distributed on the circle.
The programme enables:
Selection from circular, annular circular or rectangular plates
Selection of various types of loading (distributed, forced. . . )
Calculation of deflection, slope, moment and stress in a random point
Display of graphs of the shape of the figures calculated
Calculation of safety coefficient
Calculation of the minimum plate thickness or maximum loading
The calculation uses the data, procedures, algorithms and information from the professional literature (Roark formulas, Machinerys Handbook 26th, Teorie desek a skorepin [doc. Ing. Ladislav Subrt, CSc. ] and others)
* MITCalc Plates download link provides trial version of the software.
Similar Software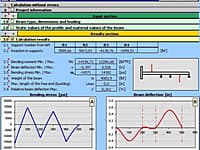 Straight beams with a constant cross-section
The application is designed for calculations of straight, maximum three times static indefinite beams with constant axis-symmetrical profiles.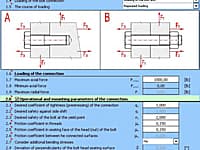 MITCalc Bolted Connections is designed for a geometrical design and strength check of a prestressed bolt connection, loaded by static or cyclic loading resp. , acting both in the axis of the bolt and in the plane of the connected parts.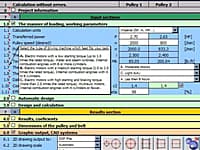 Mechanical, Industrial and Technical Calculations
MITCalc is the mechanical, industrial and technical calculations package. This professionally multi-language prepared package includes solutions for gearings, belt and chain drives, bearings, springs, beams, shafts, bolt joints and many others.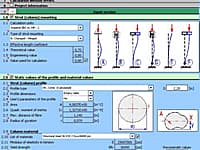 Calculation Slender Strut (Column) Buckling
MITCalc Buckling is designed to calculate the optimum cross-section and perform strength check of slender struts strained for buckling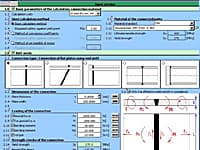 Design and strength control of statically loaded welded connections
MITCalc Welded Connections is intended for the geometrical design and strength control of statically loaded welded connections of machine structures manufactured from carbon steels.
Comments & Reviews
Submit a review about MITCalc Plates software with your social media profile