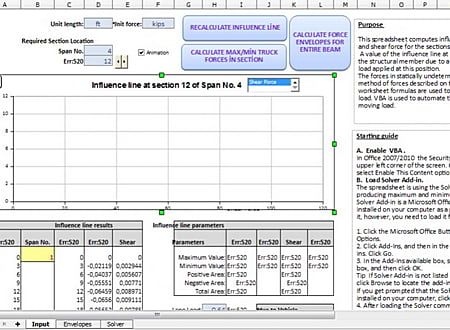 SOFTWARE :
Influence Lines
LICENSE :
Free for non-commercial use
DOWNLOADS :
UserDownloads:

898
Influence Lines
Description
This spreadsheet computes influence lines of bending moment and shear force for the sections of continuous beams.
A value of the influence line at position 'X' presents a force in the structural member due to a concentrated downward unit load applied at this position.
The forces in statically undetermined structure are found using method of forces described on the page 'Solver'. The worksheet formulas are used to solve the structure for a single load. VBA is used to automate this task for various locations of moving load.
Starting guide

A.  Enable  VBA
In Office 2007/2010  the Security Warning will appear in the upper left corner of the screen. Click on Options, and then select Enable This Content option.
B.  Load Solver Add-in.
The spreadsheet is using the Solver to find truck locations producing maximum and minimum forces in the beam. The Solver Add-in is a Microsoft Office Excel add-in which is already installed on your computer as a part of Microsoft Office. To use it, however, you need to load it first.
* Influence Lines download link provides free for non-commercial use version of the software.
Similar Software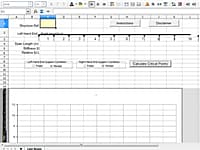 Influence Line Diagrams for Single or Multispan Decks
Influence Line diagrams for bending moments at critical sections in a single or multi-span continuous beam.
GoBeam
Version:2015 · Yakov Polyakov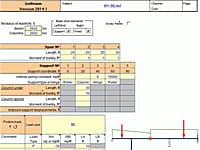 Continuous Beam Analysis for Excel
The easiest and most straight forward continuous beam analysis program available.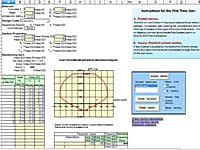 Investigation Of Reinforced Concrete Column Section
ShortCol computes ultimate strength of reinforced concrete column subjected to combined axial force and bending moment.
PSLoss
Version:2010.1 · Yakov Polyakov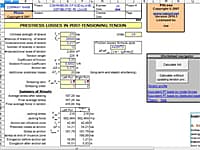 Prestressing Losses in Post-Tensioned Tendon
Calculates elongations and prestress losses due to friction and anchor set of three-dimensional post-tensioned tendon.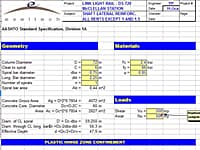 Shear Capacity and Confinement Reinforcement of Columns
Calculates shear capacity and confinement reinforcement of circular and oblong shape reinforced concrete columns.
SectProp
Version:2010.1 · Yakov Polyakov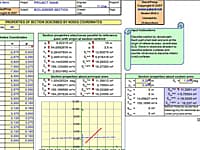 Cross-Sectional Properties Of Structural Members
Calculates structural properties of general cross-section. Also calculates torsional properties of thin-walled section including shear center and warping moment of inertia.
Comments & Reviews
About Influence Lines
No comments yet. Be the first to comment.
Submit a review using your Facebook ID