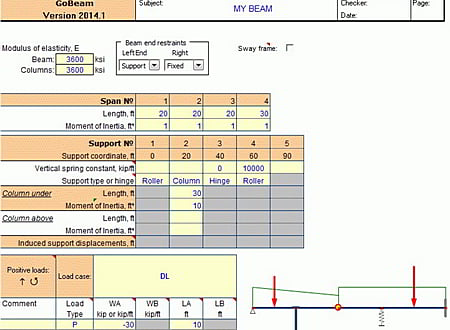 DOWNLOADS :
UserDownloads:

11233
Program Description
The easiest and most straight forward continuous beam analysis program available. Features static and moving loads, support settlements, non-linear analysys of beam on elastic foundation and influence lines analysis. It allows elastic and column support conditions, hinges and variable beam stiffness. 
Features:
Modeling
Up to 100 spans
Concentrated and linear loads
Support displacement load
Free or fixed ends of the beam
Column supports (above or below)
Elastic and compression only supports
In-span hinges (moment release)
Variable beam stiffness within a span
Sway frame option (for beams with columns)
Functionality
Static analysis
Beam on elastic foundation non-linear analysis
Support settlement analysis
Moving load analysis for user-defined lane+truck type of loads. Standards loads such as HL93, CL-625, M 1600, Cooper E90 and others are included in truck database.
Influence lines of forces, support reactions and deflections
Multiple load cases
Load combinations
Force envelopes
Section properties calculator
SI and US customary units
Customized printing
* GoBeam download link provides trial version of the software.
Similar Software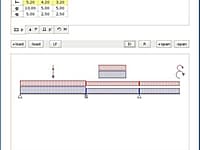 Member Forces and Support Reactions of a Continuous Beam
This is a small engineering tool that calculates member forces and support reactions of a continuous beam. It is based on CBA. m for matlab/octave by Colin Caprani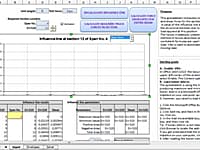 Influence Lines In Continuous Beams
This spreadsheet computes influence lines of bending moment and shear force for the sections of continuous beams.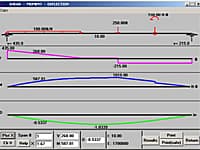 Continuous beam analysis program
An easy to use continuous beam analysis program for the Microsoft Windows platform.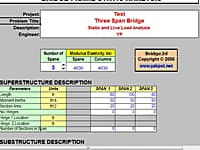 Static and Moving Load Analysis of Bridges
Builds two-dimensional bridge models and performs static and moving load analyzes. Uses GT STRUDL as a structural analysis engine.
CBeam
Version:6.1 · Mcal Software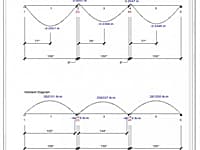 C-beam is a continuous beam software package that allows the user to solve statically indeterminate structures.
Comments & Reviews
Submit a review about GoBeam software with your social media profile