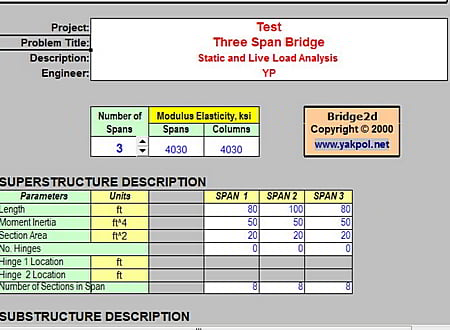 DOWNLOADS :
UserDownloads:

2489
The main goal of Bridge2d is quickly and efficiently to build and analyze realistic bridge models with minimum efforts. Great for new designs and bridge load rating when numerous structural models shall be effectively evaluated within a short time.
Requires GT STRUDL version 9701 or later licensed to database exchange feature (DBX).
Capabilities:
Generates continuous beams/frames with variable spans and columns length; superstructure hinges and column moment releases; foundation springs and stiffness elements. Does not require tedious node numbering. Plots model with applied loads.
Allows all static loads available in GT STRUDL applied in an easy way.
Generates influence lines and computes maximum force envelopes due to custom truck and lane loads including AASHTO LRFD loads.
Creates load combinations.
Great visual presentation with Excel graphs of force and displacements diagrams and maximum envelopes.
Allows to query results.
Capable of post-processing independent GT STRUDL 2d models and loading them with the moving loads.
On-line help and custom toolbars.
* Bridge2d download link provides demo version of the software.
Similar Software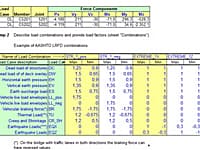 Load Combinations and Minimum/Maximum Force Envelopes
Creates load combinations and finds maximum/minimum force envelopes for structural members.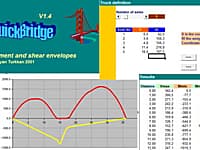 Moving truck analysis for bridges with simple or continuous spans
Moving truck (up to 20 axles) analysis for bridges with simple or continuous spans (up to 5). Envelopes (M & V) and support reactions.
Brufem
Version:4 · Bridge Software Institute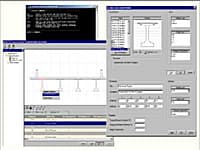 Modeling, Analysis and Load Rating of Highway Bridges
The BRUFEM program is used to perform automated finite element modeling, analysis, and load rating of highway bridges using a complete 3-D model.
GoBeam
Version:2019 · Yakov Polyakov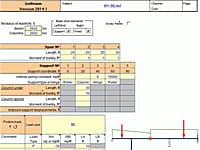 Continuous Beam Analysis for Excel
The easiest and most straight forward continuous beam analysis program available.
PSLoss
Version:2010.1 · Yakov Polyakov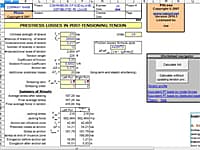 Prestressing Losses in Post-Tensioned Tendon
Calculates elongations and prestress losses due to friction and anchor set of three-dimensional post-tensioned tendon.
SectProp
Version:2010.1 · Yakov Polyakov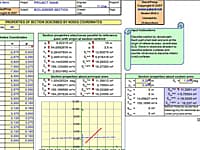 Cross-Sectional Properties Of Structural Members
Calculates structural properties of general cross-section. Also calculates torsional properties of thin-walled section including shear center and warping moment of inertia.
Comments & Reviews
About Bridge2d
No comments yet. Be the first to comment.
Submit a review about Bridge2d software with your social media profile