DOWNLOADS :
UserDownloads:

103
Program Description
GMS (Groundwater Modeling System) is water modeling application for building and simulating groundwater models from Aquaveo. It features 2D and 3D geostatistics, stratigraphic modeling and a unique conceptual model approach. Currently supported models include MODFLOW, MODPATH, MT3DMS, RT3D, FEMWATER, SEEP2D, and UTEXAS.
GMS is the most advanced software system available for performing groundwater simulations in a three-dimensional environment.
Interact with models in true 3D
Optimized OpenGL graphics for improved hardware rendering
Create photo-realistic renderings
Generate animations for PowerPoint or web presentations
Drape images over the model and control the opacity
Annotations – Add north arrows, scale bars, reference images, company logos, and more
Models require data from many different sources. That's why GMS is built to easily import numerous file types:
Raster images including georeference and projection support
Topographical maps & elevation data
Borehole data including stratigraphy and geophysical data
Native MODFLOW files
MODFLOW files from Visual MODFLOW, Groundwater Vistas and PM Win
Web data services such as TerraServer
ArcGIS geodatabases and shapefiles
CAD files including .dwg, .dgn, and .dxf formats
Worldwide projection support including Cartesian and Geographic Systems
File Import wizard for delimited text files and spreadsheets
From cross-section editing to advanced probability statistics, GMS offers unparalleled subsurface modeling tools.
Generate iso-surfaces from 3D data to visualize plumes
Cut cross-sections anywhere through 3D data
2D & 3D geostatistics – Kriging, IDW and Natural Neighbor
Robust and fast algorithms to create solids from horizons
* GMS download link provides trial version of the software.
Similar Software
WMS
Version:11.1 · Aquaveo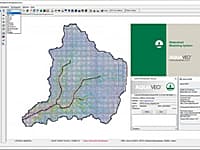 The All-in-one Watershed Modeling System
Aquaveo WMS (Watershed Modeling System) is a watershed computer simulation and modeling software application from Aquaveo. WMS is a all-in-one hydrologic and hydraulic solutions and pipe network tools.
SMS
Version:13.1 · Aquaveo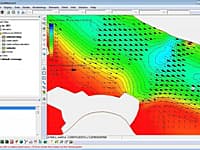 SMS (Surface-water Modeling System) is a complete program for building and simulating surface water models from Aquaveo.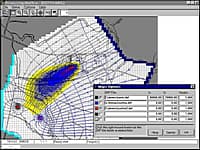 Processing Modflow (PMWIN) is a comprehensive integrated groundwater modeling system that is used by many organizations, such as research institutions, consulting firms, agencies, and entities of the United Nations.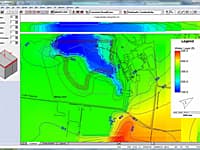 Groundwater Vistas is a state of the art software package for 3D groundwater flow and contaminant transport modeling, calibration and optimization using the MODFLOW suite of codes.
HEC-HMS
Version:4.7.1 · Hydrologic Engineering Center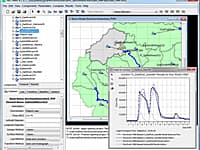 The Hydrologic Modeling System (HEC-HMS) is designed to simulate the complete hydrologic processes of dendritic watershed systems.
Comments & Reviews
Submit a review about GMS software with your social media profile