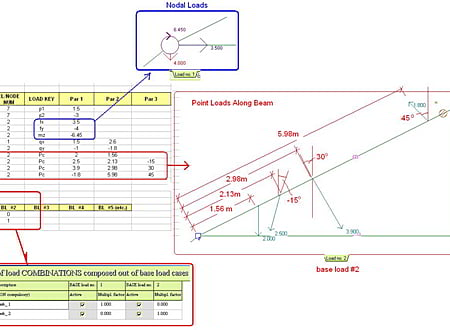 LICENSE :
GNU General Public License
DOWNLOADS :
UserDownloads:

7083
Calc4fem is the open source spreadsheet for plane frames, beams and trusses calculation. Finite Element Method for beam elements is used.
 User Functions for getting results for engineering templates
 2D linear static calculation (beams, trusses, frames)
 Convert data to other free engineering program
 More than 10 load types for building structures
 Displacements, reactions, envelopes for load combinations
* Requires Open Office
* Calc4fem download link provides gnu general public license version of the software.
Similar Software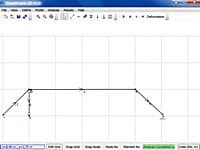 Analyze Planar Frames, Trusses, and Multi Span Beams
SmartFrame 2D is easy and quick way to model and analyze planar frames, trusses, and multi span beams based on the finite element method.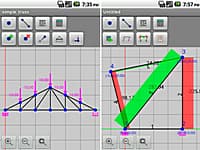 Linear Static Analysis Of Plane Trusses
AndTruss2D is a useful application for linear static analysis of plane trusses with the Finite Element Method.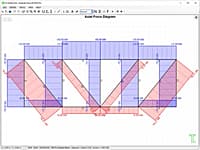 Linear Static Analysis of Plane Trusses
EngiLab Truss. 2D is a powerful engineering software for the linear static analysis of plane (2D) trusses for Windows, offering also some design capabilities with relevant checks.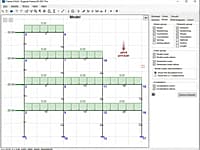 Structural Analysis of Plane (2D) frames
EngiLab Frame. 2D is an easy-to-use yet powerful engineering tool for the structural analysis of plane (2D) frames for Windows, using a 3-DOFs (Degrees of Freedom) per node approach.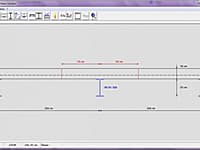 Calculation of Steel, Partially Encased, Composite, or Integrated Beams
ABC: ArcelorMittal Beams Calculator is a free pre-design tool for use in designing a variety of steel and composite structures such as portal frames, beam and column structures, trusses, and column-beam connections.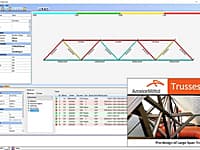 Pre-design of Large Span Trusses
Trusses+ is dedicated to the pre-design of Large Span Trusses in conformity with the European rules for steel structures.
Comments & Reviews
About Calc4fem
Submit a review about Calc4fem software with your social media profile