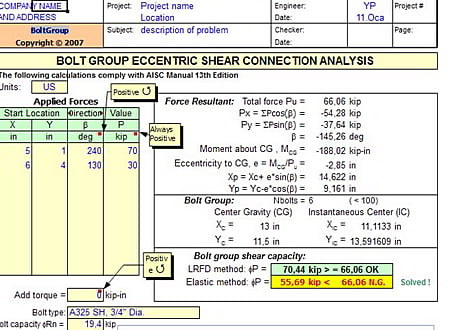 DOWNLOADS :
UserDownloads:

1993
BoltGroup computes shear capacity of an eccentrically loaded bolted connection using LRFD instantaneous center of rotation method. Great tool for design of gusset plates and plate girder bolted splices. The analysis results have been verified with AISC tables. Spreadsheet provides design summary, detailed results, and fundamental theory and formulas.
Capabilities:
irregular bolt patterns
LRFD and elastic methods by AISC Manual 13th Edition
allows multiple in-plane forces and torque
SI and US units
* BoltGroup download link provides demo version of the software.
Similar Software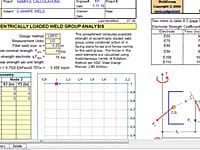 Eccentrically Loaded Weld Group Shear Capacity
Implements AISC LRFD method to calculate capacity of weld group under combined action of eccentrically applied in-plane and normal forces.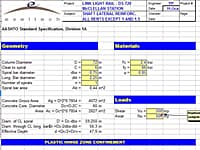 Shear Capacity and Confinement Reinforcement of Columns
Calculates shear capacity and confinement reinforcement of circular and oblong shape reinforced concrete columns.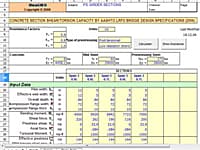 AASHTO LRFD Shear Capacity Of Concrete Section
LRFDShear Computes ultimate capacity of reinforced/prestressed concrete members subjected to combined action of shear, flexure, torsion and axial forces.
GoBeam
Version:2019 · Yakov Polyakov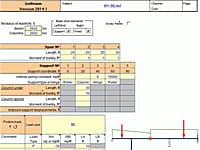 Continuous Beam Analysis for Excel
The easiest and most straight forward continuous beam analysis program available.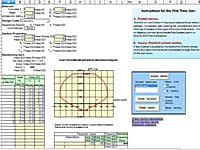 Investigation Of Reinforced Concrete Column Section
ShortCol computes ultimate strength of reinforced concrete column subjected to combined axial force and bending moment.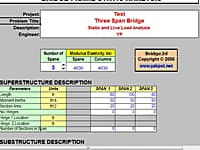 Static and Moving Load Analysis of Bridges
Builds two-dimensional bridge models and performs static and moving load analyzes. Uses GT STRUDL as a structural analysis engine.
Comments & Reviews
About BoltGroup
No comments yet. Be the first to comment.
Submit a review about BoltGroup software with your social media profile