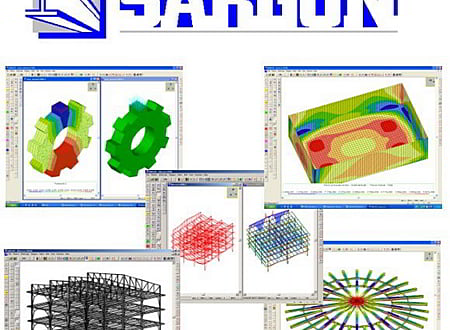 Last Update :
3 April 2012
Downloads :
UserDownloads:

232
Sargon is a software used for structural analysis mainly aimed to the design and check of steel structures (sheds, hangars, covers, multi-story building, pipe rack, industrial plants, towers and masts, scaffolds, warehouse shelves, cantilever, drive in, porta pallet, trusswork, frames, etc. etc.). It uses a powerful graphic interface and different finite element solvers, both internal and external. Sargon Modeler is a 3D modeler of high power and versatility, especially designed for 3D structures. Sargon embeds Samba, the cross-sections archive management unit (starting from more than 10, 000 cross-sections) and new cross-section design tool. Sargon is able to create preliminary drawings automatically and is interfaced with CSE for the automatic steel-joints (steel-connections) check.
Using Sargon you can quickly design 2D or 3D structures, checking them according to different standards like eurocodes 3 and 5 (EN 1993 1-1, CNR 10011, BS 5950, AISC-ASD, EN 1995). Since you can change units of measure and output language at any time, you can easily work with abroad customers. All the structural features and the results can be got in graphic format.
Free demo version of the finite element program Sargon with the following limitations:
the models must be up to 50 nodes;
there is not the cross-section management tool bundled with normal Sargon copies, named SAMBA;
there are not the checkers according to different standards, the nonlinear solvers and the frequency response solver;
there is not the command for the automatic generation of load combinations and the command for the automatic meshing of plane surfaces;
there are not the interfaces to other programs.
Similar Software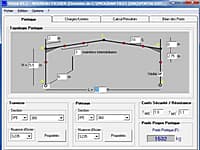 PORTAL is a software to be used for the pre-design of single bay steel portal frames according to ENV and ENV 1993-1-1 for resistance checks.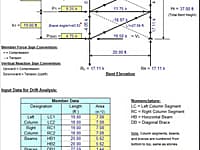 Analysis Of Vertical Bents With Tension-Only X-Bracing
XBRACING is a spreadsheet program written in MS-Excel for the purpose of analyzing X-braced bents with tension-only systems.
Analyze Planar Frames, Trusses, and Multi Span Beams
SmartFrame 2D is easy and quick way to model and analyze planar frames, trusses, and multi span beams based on the finite element method.
THERMAL
Version:1.0 · Alex Tomanovich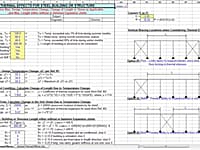 Thermal Effects for Steel Building or Structure
THERMAL is a spreadsheet program written in MS-Excel for the purpose of considering the thermal effects for a steel building or structure.
SAMBA
Version:3.51 · Castalia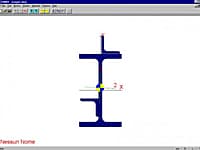 Shape And Material Brisk Archive
Samba (Shape And Material Brisk Archive) is a software program very useful for structural designer, particularly of steel structures.
Comments & Reviews
About Sargon
No comments yet. Be the first to comment.
Submit a review using your Facebook ID