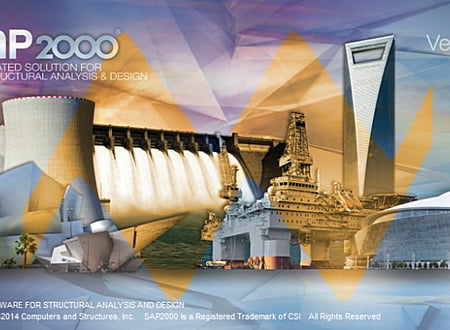 Last Update :
11 September 2014
Downloads :
UserDownloads:

6308
The SAP name has been synonymous with state-of-the-art analytical methods since its introduction over 30 years ago. SAP2000 follows in the same tradition featuring a very sophisticated, intuitive and versatile user interface powered by an unmatched analysis engine and design tools for engineers working on transportation, industrial, public works, sports, and other facilities.
From its 3D object based graphical modeling environment to the wide variety of analysis and design options completely integrated across one powerful user interface, SAP2000 has proven to be the most integrated, productive and practical general purpose structural program on the market today. This intuitive interface allows you to create structural models rapidly and intuitively without long learning curve delays. Now you can harness the power of SAP2000 for all of your analysis and design tasks, including small day-to-day problems. Complex Models can be generated and meshed with powerful built in templates. Integrated design code features can automatically generate wind, wave, bridge, and seismic loads with comprehensive automatic steel and concrete design code checks per US, Canadian and international design standards.
Advanced analytical techniques allow for step-by-step large deformation analysis, Eigen and Ritz analyses based on stiffness of nonlinear cases, catenary cable analysis, material nonlinear analysis with fiber hinges, multi-layered nonlinear shell element, buckling analysis, progressive collapse analysis, energy methods for drift control, velocity-dependent dampers, base isolators, support plasticity and nonlinear segmental construction analysis. Nonlinear analyses can be static and/or time history, with options for FNA nonlinear time history dynamic analysis and direct integration.
From a simple small 2D static frame analysis to a large complex 3D nonlinear dynamic analysis,   SAP2000 is the easiest, most productive solution for your structural analysis and design needs.
Similar Software
ANSRuop
Version:3.3 · ANSRuop Development Team
static & dynamic, linear & non-linear analysis of structures
The ANSRuop computer program is specialized structural analysis software, designed for scientific research as well as to aid practicing engineers.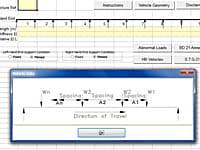 Abnormal Load Vehicles, HB Vehicles, BD21 Annex D Vehicles and BD86 STGO Vehicles are analysed as moving loads across a single or multi-span continuous line beam to determine critical bending moments and shear forces.
GoBeam
Version:2015 · Yakov Polyakov
Continuous Beam Analysis for Excel
The easiest and most straight forward continuous beam analysis program available.
RspBr2
Version:3.0 · Washington State Department of Transportation
Plane Frame Structural Analysis For Bridge Engineers
RspBr2 is a plane frame structural analysis program to aid bridge engineers in design and checking beam bridges.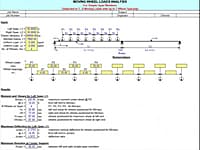 Simple-Span Members Subjected To 1-8 Moving Wheel Loads
MOVLOADS is a spreadsheet program written in MS-Excel for the purpose of analysis of simple-span members subjected to from one up to eight moving wheel loads with up to seven wheel spacings.
Comments & Reviews
About SAP2000
Submit a review using your Facebook ID