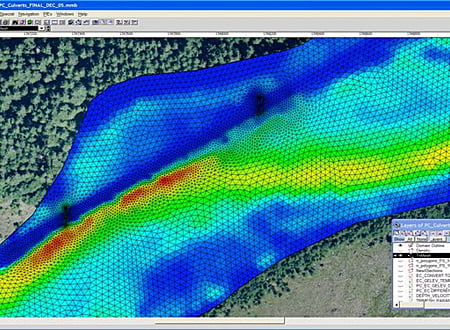 Last Update :
25 August 2014
Downloads :
UserDownloads:

519
RiverFLO-2D is a hydrodynamic and mobile bed finite element model for rivers that provides high resolution flood hydraulics accounting for supercritical and subcritical regimes over dry or wet river beds. The use of flexible triangular mesh permit refining the flow field around key river features in complex river environments.
RiverFLO-2D can predict the detailed 2-D channel hydraulics and overbank flooding through the shorter project reach. RiverFLO-2D user interface is based upon Argus Open Numerical Environment (Argus ONE). This GIS-integrated software system provides interactive functions to generate and refine the finite element mesh. It also facilitates, assigning boundary conditions and roughness values. By importing and exporting multiple GIS layers, the user can graphically display the model results in a number of formats.
RiverFLO-2D computation engine uses a powerful and stable finite element solution method that solves most of the boundary and hot start difficulties of similar 2-D models.  
Similar Software
Giswater
Version:1.1.179 · Giswater Association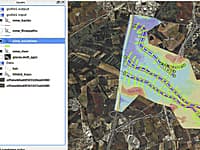 Connect Water Simulation Programs to a Powerful GIS Interface
Giswater connects water simulation programs to a powerful GIS interface, and lays the foundation for full management of water supply systems, sewerage systems, drainage networks and rivers.
HEC-HMS
Version:4.1 · Hydrologic Engineering Center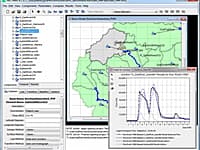 The Hydrologic Modeling System (HEC-HMS) is designed to simulate the complete hydrologic processes of dendritic watershed systems.
LOOPS
Version:1.02 · UCF Civil Engineering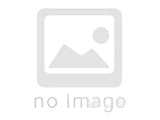 Implementation of the familiar Hardy-Cross pipe distribution algorithm.
Argus ONE
Version:4.2.0w · Argus Holdings Ltd
Graphical User Interfaces for Numerical Models
Argus ONE is a family of general purpose graphical Pre- and Post-Processors for the numerical modeler.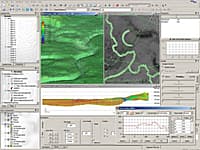 Modeling fluid flow and transport of dissolved constituents
FEFLOW is a professional software package for modeling fluid flow and transport of dissolved constituents and/or heat transport processes in the subsurface. FEFLOW contains pre- and post processing functionality and an efficient simulation engine.
Comments & Reviews
About RiverFlow2D
No comments yet. Be the first to comment.
Submit a review using your Facebook ID