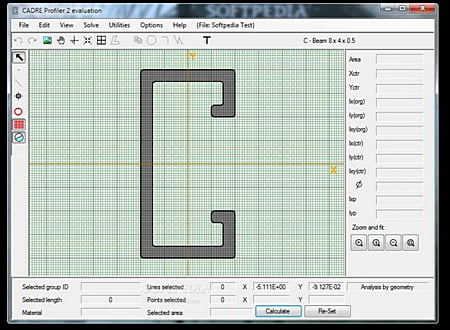 Software :
CADRE Section Profiler
Last Update :
5 January 2016
Downloads :
UserDownloads:

390
CADRE Section Profiler
Description
This application is used to design section profiles and determine their geometric properties for custom beam cross sections which can be composed of different materials. CADRE Profiler is the only section property application available that provides two entirely independent means of validating section properties so that one method can be use to check the other.
Features
A unit independent application
Calculation of moments of inertia, cross product of inertia, centroid, principal axes, bending moduli and extreme fiber distances both on the design axes as well as the principal axes
Handles very thin gage sections accurately
Handles non-homogeneous sections including reinforced concrete beams
Two completely independent and dissimilar analytical methods are provided so one can be used to check against the other
Merging to combine previously created section files
Merging to combine common shapes such as round and rectangular tubes, I-beam shapes, 'L' shapes, 'C' shapes, 'T' shapes, 'Z' shapes with little, if any, additional drawing.   These shapes include tapered flanges and radii
Analysis of multiple built-up sections with different materials
Rotating,   translating, and flipping all or components of the section drawing
Snap to grid
Automatically install corner radii on corners intersecting at any angle.    Automatically rotate and/or translate to principal axes duplicate section drawing components
Quickly check areas and lengths of individual components
Zoom, shrink, fit to window, and dynamic pan capability
Import from and export to CAD
Export results to create or append CADRE pro section property files
Similar Software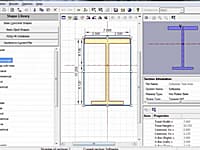 Find the properties of complex built-up sections
RISASection allows the user to define any type of complex cross section either by combining standard shapes or by defining new shapes.
CBeam
Version:2.0 · Juntunen Bridge Systems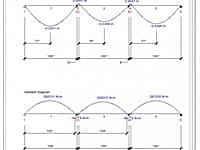 Section properties for composite beams
CBeam 2. 0 is a windows application that calculates section properties for composite beams.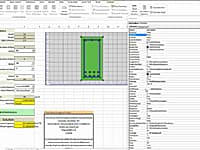 Elastic and Plastic Bending Analysis
Structures Office supports construction of arbitrary cross-sections, computes area, elastic, and plastic section properties.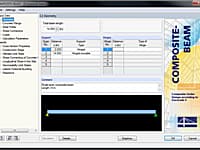 Design of Composite Beams According to ENV 1994-1-1:1992
The COMPOSITE-BEAM program performs design of composite beams according to ENV 1994‑1‑1:1992‑10.
Finite Element Structural Analysis Application for Plate & Beams
Cadre Analytic can provide structural analysis reports prepared by licensed professional engineers for many types of structures, from the very small to the very large.
Comments & Reviews
About CADRE Section Profiler
No comments yet. Be the first to comment.
Submit a review using your Facebook ID