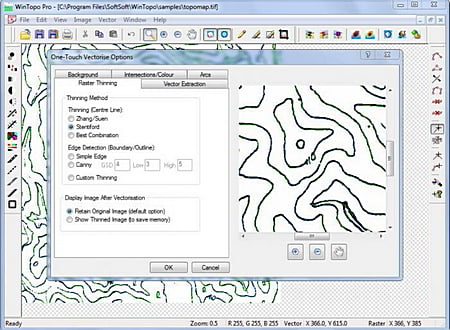 DOWNLOADS :
UserDownloads:

582
Program Description
WinTopo is a high quality software application for converting TIF, JPG, PNG, GIF, BMP files and scanned images into useful vector files suitable for CAD, GIS and CNC applications.
A raster image is made up from pixels, like the picture obtained from a scanner, or the screen image on a computer monitor. It has a finite amount of detail which is dependant upon the image size and resolution. The closer you look at a raster image the more coarse it appears. If you magnify a raster image the pixels just get bigger, and you don't see any extra detail. A vector image is stored as geometric objects, such as lines and arcs, which are drawn between specific coordinates. If you magnify a vector image you see the lines more accurately, and the line edges stay smooth. Vector drawings are utilised in CAD (Computer Aided Design) and GIS (Geographical Information Systems) and other applications where accuracy is important. A raster to vector converter translates a raster image into the corresponding vector image.
WinTopo Freeware is the complete solution for users wanting to do small volumes of raster to vector conversion. If you need more image processing features, batch processing of large quantities of drawings, or more vector tools, take a look at WinTopo Pro.
* WinTopo download link provides freeware version of the software.
Similar Software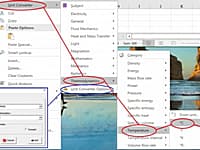 Scientific and Engineering Unit Converter
Duometrix is a set of two programs - an Excel Add-in and a Windows Standalone - that convert units for students, scientists and engineers.
HCALC
Version:1.1 · Tahoe Design Software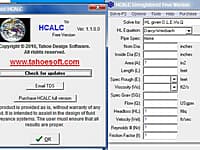 Pipe Flow Calculator and Unit Converter
HCALC solves for head loss, diameter, flow, pipe area, velocity, Reynolds number and friction factor using the Darcy-Weisbach, Hazen-Williams or Manning's equations.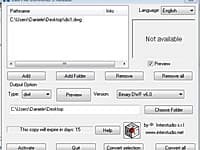 DXF, DWG, DWF, DXB, PDF Convert, View and Print
CAD File Converter's main purpose is to find its way among the various formats and versions of documents generated by Autodesk's AutoCad and by numerous other programs using DXF, DWG, DWF, DXB and PDF formats.
Comments & Reviews
Submit a review about WinTopo software with your social media profile