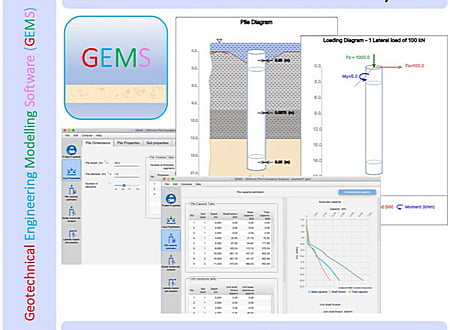 SOFTWARE :
Offshore Pile Foundation Analysis
PLATFORM :
Windows / Mac / Online
DOWNLOADS :
UserDownloads:

171
Program Description
Commonly adopted offshore platforms are of jacket type and are mostly supported by pile foundations. The pile foundation designed for these structures should safely transmit the loads through the sub soil strata beneath the sea bed. The design of the foundation should meet the serviceability and safety requirements under operational and severe storm conditions.
The main types of load to which the piles are subjected to are the axial compressive, tensile loads, lateral loads and moments. The Offshore Pile Foundation Analysis suite of GEMS provides easy-to-use program modules for the all the above analysis. There are three modules available:
Pile Capacity Estimation
Axially Loaded Pile Analysis
Laterally Loaded Pile Analysis
Key Features
One click computation and analysis for all load cases and modules.
Axial pile capacity estimation
Analysis of the pilefoundation under lateral and axial loads.
Generation of p-y, t-z and q-z curves based on soil properties.
User defined p-y, t-z and q-z curves.
Multiple load cases.
Graded mesh for lateral pile analysis along the pile length for better accuracy
Pictorial representation of the pileand soil layers.
Loading diagrams for each load case.
Export of results to Microsoft Word & Excel
Support of Windows and Mac
The loading may consist of axial load, lateral load and lateral moment.
Static and cyclic loadings can be incorporated for lateral analysis.
Self-weight of pile may be included if required.
Localscour consideration.
Pile thickness can be varied along the length of the pile.
Facility of prescribing lateraldisplacement, rotation & rotational spring at the pile head.
Consideration of group effect by user prescribed p-multiplier, y-multiplier & z-multiplier.
Data can be input in either SI units or 'Commonly used American units' (Kips for force and foot for length)
* Offshore Pile Foundation Analysis download link provides trial version of the software for Windows and Mac.
Similar Software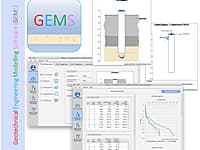 Pile Capacity Estimation, Axial and Lateral Load Analysis
The Comprehensive Pile Foundation Analysis (Land, Bridge & Waterfront Structures) software of GEMS provides feature rich & easy-to-use program modules for pile capacity estimation, axial and lateral load analysis.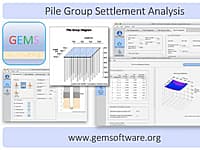 Pile Capacity, Design Load Estimation and Pile Group Settlement
The GEMS – Pile Group Settlement Analysis software uses modern analytical techniques based on the subsurface soil profile, pile dimensions and group geometry to estimate the pile group settlement.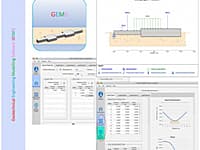 Geotechnical Engineering Modelling
Beam Foundation Analysis (GEMS) is a feature rich, easy to use finite element modelling software for beam foundations.
APILE
Version:9.6 · Ensoft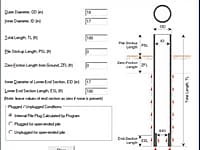 Analysis of the Axial Capacity of Driven Piles
APILE is used to compute the axial capacity, as a function of depth, of a driven pile in clay, sand, or mixed-soil profiles.
FB-Deep
Version:1.21 · Bridge Software Institute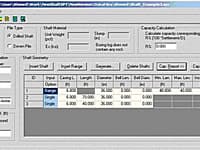 Static axial capacity of drilled shafts and driven piles
The FB-Deep computer program is a Windows based program used to estimate the static axial capacity of drilled shafts and driven piles.
Comments & Reviews
Submit a review about Offshore Pile Foundation Analysis software with your social media profile