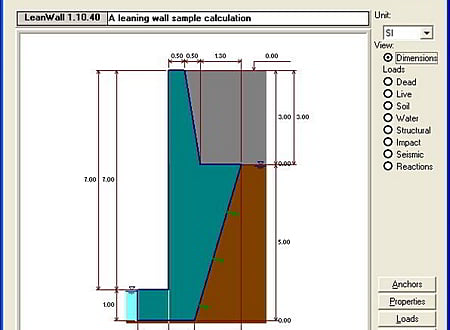 DOWNLOADS :
UserDownloads:

218
Program Description
LeanWall is a software mainly designed for the purpose of designing a concrete or masonry leaning wall. The wall may lean on rock or soil and may retain soil or other granular material. It analyses the stability of the wall based on the loads and the resulting base pressure, sliding, anchor stresses and eccentricities. Loads applied on the wall may consist of self weight, soil pressure, water pressure, live and seismic loads. If the wall is a reinforced concrete structure, the software also supports the reinforcement design. In addition, a soil pressure calculator is also provided.
LeanWall is designed to be an easy application, on-screen trial-and-error method and quick solution finding of the design. A familiar designer can design the wall within minutes. Complete outputs can be viewed on screen or printed.
* LeanWall download link provides trial version of the software.
Similar Software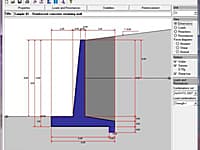 Designing a Concrete or Masonry Retaining Wall
RetainWall is a software mainly developed for the purpose of designing a concrete or masonry retaining wall.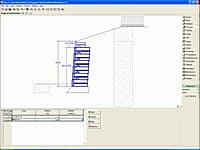 The program Redi Rock wall is used to design and check a retaining walls made from blocks produced by Redi-Rock, Inc (USA).
ReWaRD
Version:2.8.3 · Geocentrix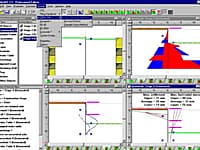 Embedded Retaining Wall Design
Designed by engineers for engineers, ReWaRD draws upon the technical expertise of Geocentrix to produce the most powerful and user friendly set of tools for retaining wall design.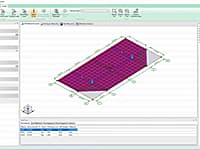 Wall, Slab or Plate Bending Analysis and Design
Solve plate bending problems for any geometry of flat plate, with various supports or holes.
spWall
Version:5.01 · StructurePoint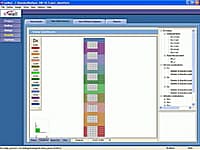 Optimize Complicated Wall Design, Reinforcing and Deflections
From shear walls and retaining walls to precast, ICF, and tilt-up walls, engineers worldwide use spWall to optimize complicated wall design, reinforcing, and deflections.
Comments & Reviews
Submit a review about LeanWall software with your social media profile