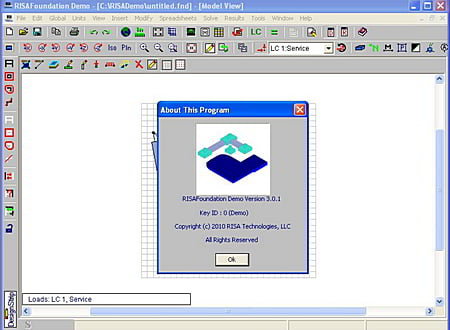 Last Update :
8 August 2014
Downloads :
UserDownloads:

401
RISAFoundation
Description
RISAFoundation gives you the ability to solve and optimize all types of foundation systems, including mat foundations, grade beams, pile caps, retaining walls, isolated spread footings and combined footings.
RISAFoundation also fully and completely integrates with RISA-3D and RISAFloor, providing a complete structural design solution. Whether running standalone or from within RISA-3D/RISAFloor, RISAFoundation provides unparalleled ease, flexibility and power for the drawing, design and optimization of foundation systems.
Features
Automatic Mesh Generation : Slabs are automatically discretized into well formed quadrilateral "not triangular" elements at a specified mesh size. Beams are automatically discretized.
Thick Plate Modeling : The thick plate method of RISAFoundation provides more realistic results than the thin plate modeling procedure found in other products.
Comprehensive Rebar Calculations and Detailing : RISAFoundation gives you the freedom to design and detail a slab in any direction. Grade beams, pile caps and spread footings are automatically designed and detailed as well. Rebar schedule and DXF export are also available.
RISA-3D and RISAFloor Integration : RISAFoundation excels as a stand alone application. Its full integration with the RISA Building System brings productivity to a higher level. Manage all project footings in one model, in one file, and within the same environment as your structure. All loads are automatically applied and all footings are optimized at once.
Similar Software
spMats
Version:8.0 · StructurePoint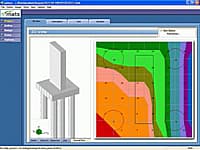 Design And Investigation of Concrete Foundations, Mats, Combined Footings, Pile Caps, Slabs On Grade
spMats is highly efficient and widely used for analysis, design and investigation of commercial building foundations and industrial mats and slabs on grade.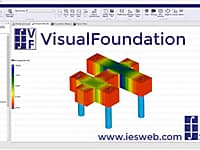 Analysis and design of complex mat foundations and combined footings.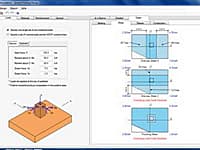 Concrete Footing Design per the latest IBC, ACI 318 specifications
ASDIP Foundation is a suite of modules specifically dedicated to the design of concrete footings, based on the latest IBC / ACI 318 specifications, that greatly simplifies the time-consuming calculations in any structural engineering office.
DynaN
Version:3.0 · Ensoft
Dynamic Analysis of Shallow and Deep Foundations
DYNAN can be used for the dynamic analysis under transient and random loading in the time domain.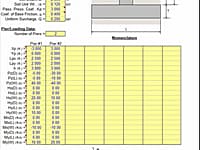 Rectangular Spread Footing Analysis
FOOTINGS is a spreadsheet program written in MS-Excel for the purpose of analysis of rigid rectangular spread footings with up to 8 total piers, and for either uniaxial or biaxial resultant eccentricities.
Comments & Reviews
About RISAFoundation
No comments yet. Be the first to comment.
Submit a review using your Facebook ID