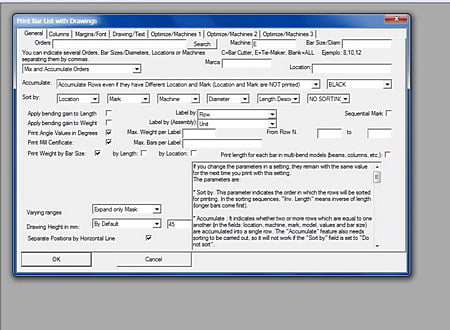 DOWNLOADS :
UserDownloads:

1200
Program Description
RebarWin is a rebar detailing software application. Rebar = steel concrete reinforcement bar. This software program should be useful to rebar detailers working in construction and civil engineering projects. 
The main features of RebarWin are:
Generates sorted, weighed and accumulated bar lists.
Prints labels to be tied to the rebar bundles.
Supports Imperial, SoftMetric and European Metric Measuring Systems.
Exports to Excel® SpreadSheet.
Whether bar lists and labels are sorted (and in what order), weighed and/or accumulated is decided by the user when they are printed.
Stores standard bend shapes in databases for easy, automatic access. An initial collection is included which can be viewed in the samples page.
It is possible to graphically define placing requirements. All rebar required in a structure can come together in the bar list and in the same label, in a high-quality placing drawing. bar list and label paper sizes can be increased to allow high complexity structures to be described clearly. These structures can be stored in databases so that it is not necessary to redraw them each time.
Calculates bending dimensions from other known dimensions.
Calculates straight and bent varying bars.
Whether to apply bending deductions to shearing length and/or weight is decided by the user when bar lists, labels or statistics are printed.
The length/weight relation and bending deductions can be easily changed and can be configured differently for different machines.
Rebar Orders are organized by projects and units. It is easy to obtain a list and total weight for all the orders in a project, unit, type or date range.
Generates statistical reports. It can be known for instance how much has been bent and how much has remained straight for each diameter and machine, and that in a given project, unit, type or date range.
The previous features are included in the 60-day trial shareware version, which you can download freely. The following, export / import and network sharing, are only available to registered users.
Export Orders (bar detailing lists) and Models (bend types) to a file so you can send them by e-mail or diskette to another computer. Export / Import options make possible that detailers in different locations can work on the same project.
Network sharing.
Changes to the program can be made on demand.
* RebarWin download link provides demo version of the software for USA and Others.
Similar Software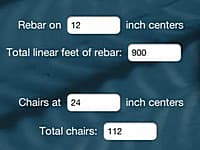 Linear Rebar Needed Based Off Square Footage of Concrete
Rebar Calculator is a simple app to calculate the number of linear rebar needed based off square footage of concrete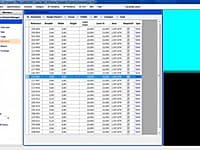 AEC 3D Rebar, is the same functionality as that of a structural engineer, a draftsman, a detailer and an estimating engineer working all together from concept to completion of design, detailing and drawing.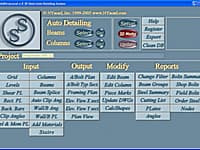 3D Steel Auto Detailing System
A program moderate and affordable for small companies and even freelance steel detailers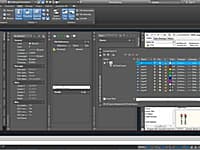 2D CAD software for drafting, detailing, and editing
For 2D drafting, AutoCAD LT delivers AutoCAD software's 2D drawing tools at a cost-effective price.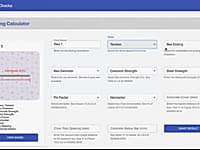 Reinforcement Detailing Calculator Designing to Australian Standards
ReoChecka is cloud based reinforcement detailing software for Australian structural engineers.
Comments & Reviews
Submit a review about RebarWin software with your social media profile